How do you measure a player's character before signing them?
By Alistair Magowan
BBC Sport
Last updated on .From the section Football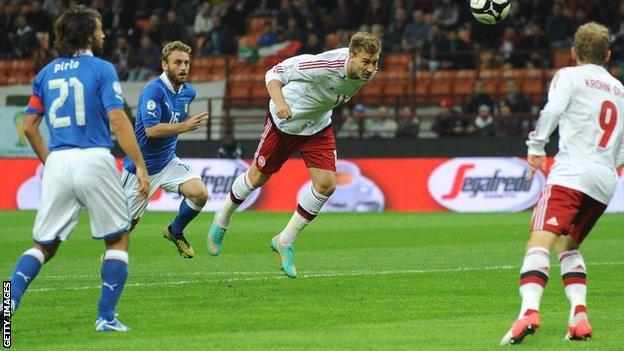 A psychologist at Arsenal, Jacques Crevoisier, once told a story about ex-Gunners striker Nicklas Bendtner taking a confidence test and his score being off the chart.
That may come as no surprise since the Dane has never been short of self-belief. But translating that to consistent performances proved more problematic at the Emirates before he was loaned out to Juventus last summer.
Clubs do these types of tests in an attempt to measure and improve their players' mental capacity. They can be limited by being taken in controlled conditions, and they can also be doctored by players attempting to record the perceived best answer.
But what if a player's psychological profile could be analysed before they signed for a club? As Premier League teams increase their efforts to ensure players fit into a new environment, what sort of value would this have as the transfer window comes to a close?
Former Liverpool and Tottenham director of football Damien Comolli believes there is a huge vacuum in this area.
He told BBC Sport: "Where we are very weak as football clubs and as organisations is how we assess the players mentally before we spend millions on them. It's an incredible challenge."
It is against the law to psychologically test a player who is not within a club's employment. Yet there is research being conducted to determine whether clubs can get the upper hand in this field, much in the same way they analyse technical and tactical data.
Rasmus Ankersen, a former football coach and author of the "Gold Mine Effect", is working with Premier League clubs on this subject.
And the Dane, who has travelled the world to write about talent identification in sport, believes it is possible to measure a player's mental toughness by analysing behaviour at different stages in a game.
Do players perform in a different manner according to whether their team is winning or losing? Why do some teams, like Manchester United, always score so late in the game? And how do you spot a leader?
Reading manager Brian McDermott, who was previously a scout for the club, says he will spend hours and hours calling people to make sure he is getting the right recruit.
"It's really important to find out because the last thing you want to do is bring someone into your football club who is not going to fit in as far as mentality is concerned," he told BBC Sport.
"You try to make the odds better for yourself. If you don't do that extra bit of homework it makes a difference."
Wigan boss Roberto Martinez said: "It's always important to see their previous experiences and what sort of challenges they had to cope with. That could include having to move away from their families, having to spend time out of their comfort zone, having to fight for relegation or having to fight to win a title."
The Spaniard thinks there are already good ways of analysing a player's mentality on the pitch, yet he would like to see more development in this field.
"During the game you can easily assess him from a psychological point of view," Martinez stated. "The strong minded players are the ones that want to change or show support to the team when things are not going well and they are still doing their jobs and you can get a lot of information from that.
"The other thing we do is put a lot of attention on warm-ups when we see a player. I think it gives you a lot of indication on the way he is, the way he interacts with his team-mates and how professional he is with his preparation."
But Comolli added: "The best thing would be being able to spend time with players and sports psychologists. To be able to have someone who could give you guidance and help you in judging those players would be absolutely key. I'm dreaming that it will happen one day."
Signing the wrong player can be an expensive business and Ankersen believes that the answers could lie in research already conducted in tennis.
Studies have shown that when top players reach tie-break situations at the end of the set, it is the weaker ones who suffer a drop-off in performance rather than the best players rising to the occasion. The peak performers merely maintain their level.
Similarly, Ankersen argues, the strongest footballers will not change their behaviour according to whether they are winning or losing.
He also says that leaders will stand out in certain situations. "If a team goes behind in a game, statistics show it will generally take them time to bounce back from that blow," he explained. "But I looked at Manchester United and they are different.
"This season they took 24 points from losing positions, having been behind in eight games.
"So what is happening? When they are losing they immediately get more possession after the opponents score. Maybe the opposition take their foot off the pedal, but figures suggests Sir Alex Ferguson's team become more pro-active in winning the ball back.
"Some players would do this more than others and you could analyse this based on their possession, their other actions with the ball and the number of high intensity runs they make. You could see who was stepping up and I would suggest they would be the leadership types in the team.
"You have a lot more coaches talking about wanting more leaders in their team, but do they really know what a leadership type is and how can you assess them? Instead of doing these psychological profiles off the pitch in a calm environment you could actually look at what is going on under maximum pressure in the game."
This might sound like a painstaking exercise, but clubs already employ performance data experts to do this for technical analysis so it would just be a case of grouping the information in a different manner.
And in the long run it could well provide a more accurate indicator than a piece of paper filled in by the likes of Bendtner.