Nations Cup 2013: Six feels referees favour 'big' teams
By John Bennett
BBC World Service Sport, in South Africa
Last updated on .From the section Football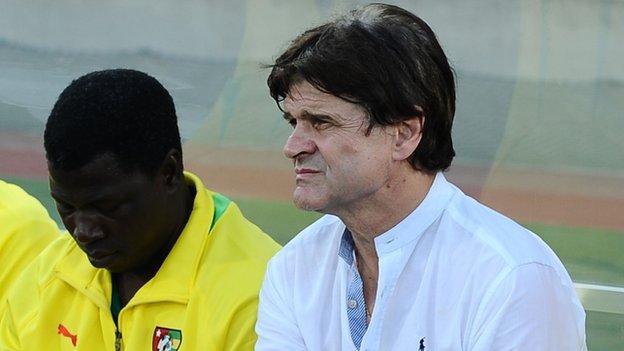 Togo coach Didier Six is concerned that referees are biased towards the so called "bigger" sides at the Africa Cup of Nations.
The Sparrow Hawks had a goal ruled out in their 2-1 loss to Ivory Coast on Tuesday for taking a corner too quickly.
"Ivory Coast is a very big team with very big stars but I cannot accept the decisions of the referee," said Six.
"We scored a goal, it was a goal 100%. The faults were always against our team, I cannot accept this position."
The goal would have put Togo 2-1 up but they went on to lose when Gervinho scored a late winner for the Elephants.
Six added: "Maybe we are a small land but we are here, we are a team in the Nations Cup so we must be in the same position.
"If we play we play to win and in this game we had one opportunity to win the game and he refused the goal. I can't accept that.
"If the people of the of Nations Cup have heard what I say, I tell them it's not for me it's for the complete tournament.
"I am not against referees, I am also not against the Nations Cups but I must say what I see in the game."
Togo now play Algeria in Group D on Saturday, with both sides needing to win to stand any chance of making it to the quarter-finals.
Despite his frustration at some of the refereeing decisions in the match against Ivory Coast, Six says his players are now fully focused on their next challenge.
"After the match we had a meeting, right afterwards because we had to recover quickly.
"The players now don't think about Ivory Coast, they're only thinking about the game against Algeria.
"In this group we are maybe the little team but I know my team, we have good players.
"It's a difficult group but against Ivory Coast we proved that we can play good football and are good enough to go to the quarter-finals."