Ghana legend Kofi calls for stability
By Seth Bennett
BBC World Service, in South Africa
Last updated on .From the section Football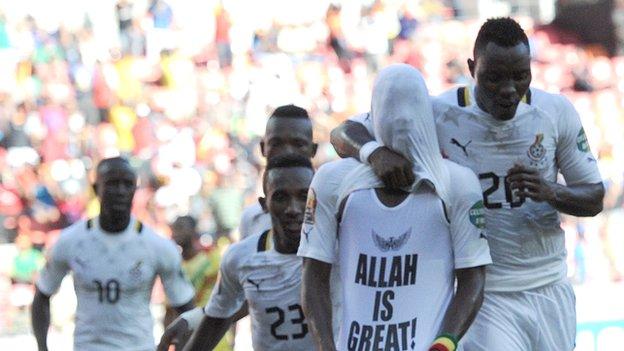 Much has been said about Ghana's lack of success at the Africa Cup of Nations over the last 31 years, but former Black Star Osei Kofi believes there is one major reason as to why they have not been African Champions since 1982.
Kofi, who was part of winning sides at the 1963 and 1965 tournaments, feels the Ghana Football Association's "obsession" with foreign coaches has cost the country dear.
"There is no consistency, coaches get two years and then they are sacked, that has killed us along with some of the coaches that have come to Ghana," he BBC Sport.
"I told the last two Serbian coaches (Milovan Rajevac and Goran Stevanovic) that we have had, that Ghana is a gifted football country, we don't train them in a football school like in Britain, no. You go and stand there and children are playing and you watch and you pick up on who will be good."
Kofi, who was considered one of the best players in Africa in the 1960s, said the managerial record of coaches since leaving the Black Stars has been less than impressive.
"Most of the coaches that we have had have not been up to the required standard," he added.
"For example, Ratomir Dujkovic left for China immediately after the World Cup in 2006, but he was sacked by the club after only three months. I believe that the players in Ghana were helping him to be a good coach.
"Then Milovan Rajevac took us to the World Cup in 2010, but then he got an offer in Saudi Arabia with Al-Ahli and he was also sacked after only three months.
"Rajevac then had a spell in charge of the Qatar which lasted six months and has not coached a professional team since."
It is not only the coaches that Kofi has criticised, the GFA has also come under fire.
"I will also attribute the last 31 years to the poor organisation of football in this country, and our officials," he said.
"One funny thing is that not a single member of the FA has played professional football before."
That said Kofi, who is now 70 has backed the GFA's decision to appoint Kwesi Appiah.
"If you bring raw gold from the dust, most people don't know what it is until it is polished. We need someone who can recognise raw talent and polish it up and that is why Kwesi Appiah will do well. He is combining the coaching methods from Europe with the knowledge of African talent.
"No white coach has come to Ghana and been given one year to win the Africa Cup of Nations and let's hope Kwesi Appiah gets more time.
"If players in Africa want to help their coach sometimes they will say 'hey coach, don't worry we will win this match for you' and they will. That is what is going on in the camp right now."
So does Cofi think that Ghana will win the Africa Cup of Nations?
"Everything is possible, as a patriotic Ghanaian I am hoping they can. I am hoping that for the first time in 31 years a black coach will bring the cup to Ghana."
Ghana are top of Group B after a draw with DR Congo and a win against Mali in their first two games. Victory over Niger in their final group game will guarantee them a place in the last eight.