Serge Akakpo almost quit Togo side after 2010 gun attack
Last updated on .From the section Football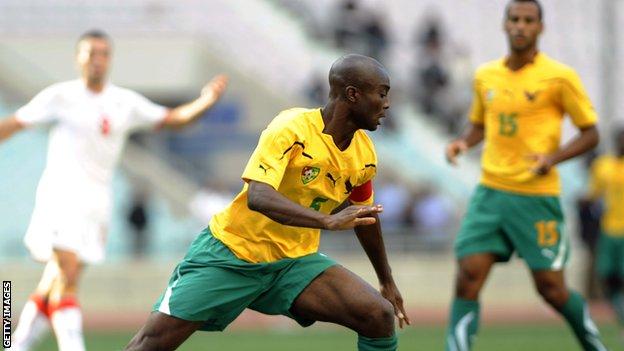 Togo vice-captain Serge Akakpo says he never expected to play at the Africa Cup of Nations again after a gun attack on the squad's bus.
Togo played their first match at the finals since then on Tuesday.
"After what happened in 2010, I almost stopped playing for the national team," Akakpo told the BBC's World Football programme.
"Then I came back, we played a lot of games, we lost a lot of games because we lost our fighting spirit but now it's OK.
"We've qualified for the Africa Cup of Nations and I'm really happy to be here."
Togo withdrew from the 2010 Cup of Nations after their team bus was attacked by rebel gunmen as it travelled through Cabinda.
Assistant coach Amelete Abalo, bus driver Mario Adjoua and media officer Stanislas Ocloo were killed in the shooting on 8 January 2010, while goalkeeper Kodjovi Obilali needed surgery after he was shot in the lower back, and was forced to retire.
"We play for them," Akakpo said. "We pray every day before and after training and we are thinking all the time of them. We will fight for them.
"We can never forget. It was really difficult for us to move on. Me especially, I took maybe a year-and-a-half to move on and now I feel good and happy to play in this Africa Cup of Nations and show the world that we can play good football."
The Confederation of African Football (Caf) banned Togo from the 2012 and 2013 Cup of Nations tournaments as a result of their withdrawal, citing government interference.
Caf said that Togo's players had wanted to stay, and that the decision to pull them out had been made by the country's politicians.
The governing body revoked the ban after Togo appealed to the Court for Arbitration in Sport, with Fifa president Sepp Blatter also stepping in to mediate.
But Togo failed to qualify for the 2012 finals in Equatorial Guinea and Gabon.
They reached this year's finals in South Africa, losing their opening Group D match 2-1 to the Ivory Coast in Rustenburg.
Akakpo, who plays his club football in Slovenia for MSK Zilina, added: "I feel lucky because after what happened, I was not thinking that one day I would be in the Africa Cup of Nations again, playing against Ivory Coast and Tunisia and Algeria.
"So now I'm really happy. I try to enjoy it and I try to have fun."