Newcastle United: Alan Pardew says imports are vital
Last updated on .From the section Football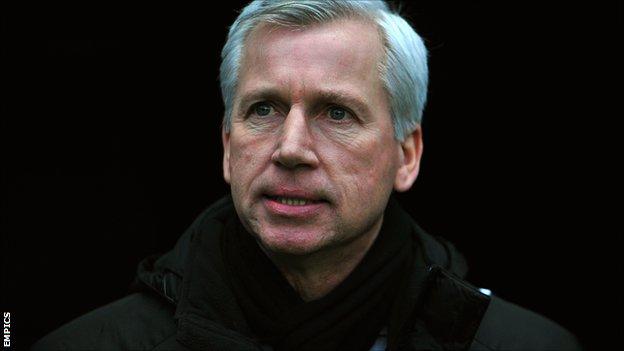 Newcastle United boss Alan Pardew has said signing foreign players is a necessity that runs against his desire to keep a British core to his squad.
The arrival of four French players at the Magpies this transfer window takes the quota to 10, enough to field a full non-British outfield side.
"It's not where we want to go," Pardew told BBC Newcastle.
"We want to make our own players, but the truth is the players from the academy we put in haven't produced."
He added: "I'm hoping it's too early for them, and that Sammy [Ameobi] and Shane Ferguson, James Tavernier and Adam Campbell come through.
"They need to, because we can't keep buying players."
Pardew has previously been a passionate advocate for retaining British presence within the top flight.
In 2006 he questioned Arsenal's lack of domestic personnel in their Champions League campaign when they fielded a team without an English player in victory against Real Madrid.
It prompted the then West Ham boss to respond: "I saw a headline saying Arsenal are flying the flag for Britain and I kind of wondered where that British involvement actually was when I looked at their team.
"It's important that top clubs don't lose sight of the fact that it's the English Premier League and English players should be involved."
Pardew insists he is committed to developing talent from England through the club's academy but is pragmatic about the need to be competitive, along with the impact on the squad from high-quality foreign imports.
"If you can't learn about being a person and a footballer from Yohan Cabaye, then you shouldn't be a footballer. The guy gives you everything," he said.
"He's not a local boy, he's not from London or Manchester - he's from France. It's about good players and that's what the Newcastle's fans want.
"The game has changed, the English game is morphing into the European game. There's more thinking, the passion and the speed is often tweaked up for the Premier League."