West Brom turn down revised QPR offer for Peter Odemwingie
Last updated on .From the section Football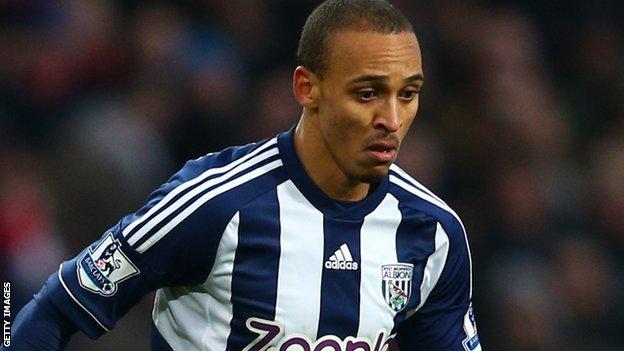 West Brom have rejected a second, improved offer from Queens Park Rangers for their striker Peter Odemwingie.
The 31-year-old put in a transfer request on Friday, an action the club described as "disappointing".
"As we have repeatedly stated, we have no need or desire to sell our core players," said Baggies technical director Richard Garlick.
"Since we turned down Peter's transfer request, he has made his position clear in a statement to the media and via his personal Twitter account. This matter will be dealt with internally."
Speaking at a press conference on Monday, QPR manager Harry Redknapp said: "It's a bit of a difficult situation for West Brom. It's not worked out in an ideal way. The whole situation has become a bit too public really, hasn't it?
"I am sure West Brom are not too happy with the way it's gone. We made an enquiry. The enquiry leaked out and obviously the player decided he wanted to come to London and that's how it has worked out."
Odemwingie, a £2.5m signing from Lokomotiv Moscow in 2010, tweeted on Sunday night: "Looked through my tweets. Deleted some. Was too much. Only excuses - home alone, dark, son and wife in hospital, frustrated."
His deleted tweets included: "Last season January window is when I should have handed in transfer request. Was one foot in Rubin Kazan - not for sale. Fulham. Not for sale. Newcastle. Not for sale. Wigan. Not for sale."
Last week he had said he was "deeply hurt" and "offended" by what he regarded as a lack of "common respect" from the West Brom management.
"At this stage of my career, this opportunity may not come around again," said Odemwingie, scorer of five goals in 19 league and cup games this season.
"A new challenge, a new opportunity and a chance to play under the stewardship of one of the most respected managers in the game."