League Cup final: Is this the biggest game in Swansea history?
By Richard Williams
BBC Wales Sport
Last updated on .From the section Football54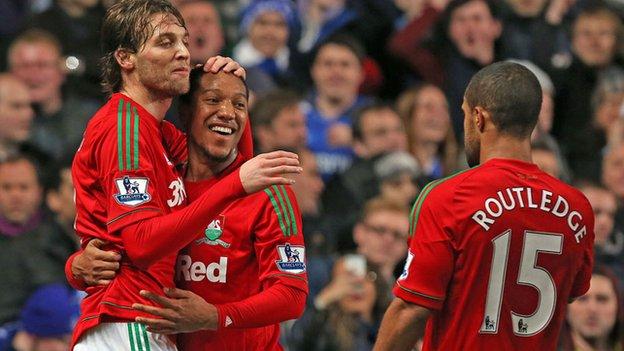 When Swansea City take on Bradford City in the Capital One Cup at Wembley, it will be the first time the Welsh club has contested a final for one of English football's major trophies.
There have been Welsh Cup final victories in the past; promotion to Division One of the old Football League, promotion play-off final wins and big European nights.
But on Sunday, Swansea will not only be within 90 minutes of lifting one of England's showpiece trophies, they will also be within touching distance of European football.
Now Swansea have been there before as Welsh Cup holders - the difference this time is that if they win, they will be a Welsh club representing England in Europe.
So it is a big game. No argument there.
But there's a debate raging among the fans and the media in this westerly outpost of British football - is this the biggest game in the history of the club?
That might be a pointless question for fans of Manchester United or Liverpool or Chelsea, but to give it some context, Swansea is a club that 10 years ago almost dropped out of the Football League.
Few of the fans who witnessed the win over Hull in 2003 which saved the Swans' League status could have imagined what the next decade would bring.
A good time, then, to reflect on what might be the biggest match in the 100-year history of Swansea.
Is it beating Chelsea in Stamford Bridge in the Capital One Cup, or is it winning against lowly Hull at a ramshackle, crumbling Vetch Field in 2003?
Let's consider the evidence. Here are six of their best.
Bolton Wanderers 3-0 Swansea Town
FA Cup semi final, Saturday 27 March, 1926
Swansea's first flirtation with the big time was a harsh lesson from one of the powerhouses of early 20th century football in England.
Exeter, Watford, Blackpool, Stoke City, Millwall and Arsenal had been seen-off en route to the semi-final clash with Bolton at White Hart Lane.
But pre-match confidence was wiped out inside 23 minutes as Wanderers swept into a 3-0 lead with goals by Baggett and Smith (2).
Bolton went on to beat Manchester City in the final and didn't meet Swansea again in the tournament until 2012 - when Wanderers won again.
Preston North End 2-1 Swansea Town
FA Cup semi final, Villa Park, 14 March, 1964
Until this season, the closest the Swans had ever got to a Wembley cup final was when they led 1-0 at half-time against Preston in a match evocatively captured by Pathe News.
Northern Ireland striker Jim McLaughlin's turn and left-foot shot put Swansea in control against a team they had beaten 5-1 earlier in the season.
The match turned on a penalty decision, with Alex Dawson fouled and then scoring from the spot. Swansea hearts were broken when Preston centre-half Tony Singleton, nearly 40 yards from goal, swung his left foot at the ball and watched it fly into the top corner.
It would be 49 years before Swansea were this close again.
Preston North End 1-3 Swansea City
Football League Division Two, 2 May 1981
John Toshack had led Swansea from Division Four to the brink of Division One. A win at Preston would seal the deal, and Toshack had assembled a team of stars to deliver top-flight football.
Leighton James set the ball rolling, cutting in from the left and curling the ball into the far corner. Tommy Craig made it 2-0 at half-time, before Alex Bruce's low drive ensured some nervous moments before Swansea counter-attacked to clinch the deal.
The goal commentary is a roll call of legendary Swans: Alan Curtis, to Robbie James, to Jeremy Charles whose left-foot drive meant top-flight football for the first time.
Swansea City 4-2 Hull City
Football League Division Three, 3 May 2003
If you want to mark a starting point for the resurgence of Swansea football this is probably it. The Supporters' Trust had established a big influence off the pitch and brought in Brian Flynn as manager midway through the season.
From rock bottom in January, the Swans had fought their way into a position where a win would save them from relegation to the Conference.
Hull led 2-1 before James Thomas scored his second penalty of the match to square things up at the interval.
Lenny Johnrose put Swansea ahead before Thomas completed his hat-trick with a cool chip from 20 yards.
Leon Britton was playing, as was future manager Roberto Martinez. Joe Allen was watching from the stands. Against all odds, the future looked bright.
Swansea City 4-2 Reading
Championship play-off final, 30 May 2011
They say it's the richest game in football and, 30 years on from Swansea's first promotion to the top flight, football had moved into the next century - literally and figuratively.
In place of sand-strewn Deepdale there were the carefully-manicured acres of Wembley Stadium and a game to remember.
Swansea led 3-0 at half-time after Scott Sinclair struck twice in two minutes and Stephen Dobie made it three. But thoughts of a procession into the Premier League were wiped out as Joe Allen headed into his own goal and Matt Mills headed in a corner.
Sinclair restored the two-goal advantage with his second penalty to claim a place among English football's elite.
Swansea City 0-0 Chelsea (agg 2-0)
Capital One Cup semi-final, second leg, 23 January 2013
It will live long in the memory because of a uncooperative ball boy and a frustrated Chelsea player.
In truth, by the time Eden Hazard received his marching orders after tangling with Charlie Morgan, the son of Swansea's main financial backer, this tie was over.
A smash-and-grab raid at Stamford Bridge two weeks earlier had given Swansea control, and the European champions never looked like breaking through.
Swans goalkeeper Gerhard Tremmel might have been the busier of the two, but it was Petr Cech who made the best saves from Michu and Nathan Dyer.
The fans slipped into the snowy night singing songs of Wembley.