FA Cup fourth round: The magic returns with weekend of upsets

By Phil McNulty
Chief football writer
Last updated on .From the section Football342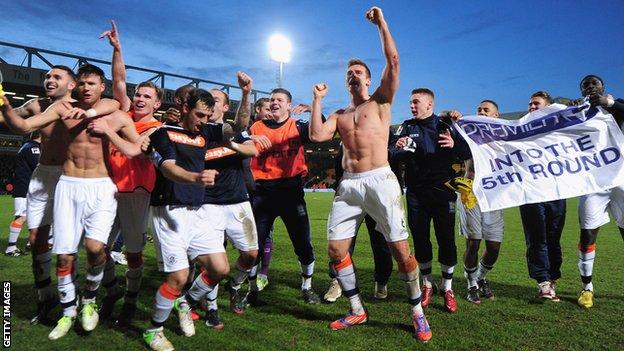 The FA Cup always works best when it is not a battle of equals and the odds are stretched - and so it proved on a weekend when the great old competition answered back to its detractors.
And the FA Cup enjoyed arguably its finest 48 hours for years as some old friends suffering in reduced circumstances were invited back on to centre stage to illustrate that the old magic, some call it romance, remains.
As Gary Lineker put it so succinctly on Twitter: "The FA Cup has blown a large raspberry at The Grim Reaper." And a resounding one it was too.
Luton Town were losing FA Cup semi-finalists as recently as 1985, 1988 and 1994 and will now, as a Blue Square Premier side, face Millwall in the last 16 after being the first non-league side to beat a top-flight team since Sutton United beat Coventry in 1989 and the first in the Premier League era.
Millwall started the weekend of shocks on Friday evening with a fine 2-1 win over Aston Villa at The New Den - a sign of surprises to come.
Leeds United lifted the trophy in 1972 and were revived by the FA Cup spirit to beat Tottenham while MK Dons, contentiously born out of the ashes of 1988 winners Wimbledon, won at Premier League QPR.
And, almost as improbably as any of the other feats, League One Oldham Athletic downed a Liverpool team with real ambition in the FA Cup this season 3-2 at a Siberian Boundary Park, inspired by Matt Smith's two goals.
Smith's was just the sort of story the FA Cup throws up. He was released by Cheltenham Town as a teenager and hawked his talents around football's outposts before being spotted by Oldham.
Seeing the game's superstars such as Steven Gerrard and Luis Suarez striving desperately through a storm at Oldham, ultimately in vain, was a picture painted from FA Cup history.
And seeing the faces of supporters young and old celebrating with Oldham's players in the rain was another perfect image of the competition.
Oldham will now meet Everton in the fifth round of a competition that has provided such bitter-sweet memories for the club.
Under some masterly guidance from manager Joe Royle during his time at Oldham, they reached the semi-finals twice in 1990 and 1994, both against Manchester United and both lost after replays.
In the first, they drew 3-3 in a Maine Road classic before losing the replay 2-1 - but it was the defeat four years later that caused greater anguish and graver consequences.
Oldham were one minute from the final until Mark Hughes scored a spectacular equaliser for United. Shattered, Oldham lost the second game 4-1 and were so demoralised they went into a decline that ended in relegation.
The club has never enjoyed such heady days again and many Oldham supporters still regard Hughes's spectacular strike as a moment from which the club has never recovered.
So for the likes of Leeds United, Luton Town and Oldham, they can recall the glory days while MK Dons can dream of new horizons.
This is what the FA Cup has done. This is what the FA Cup can still do. And no-one can say any different after this glorious weekend.
Those of us fortunate to be at Brighton for their meeting with Arsenal on Saturday and at Brentford's compact, atmospheric Griffin Park for the visit of Champions League winners Chelsea 24 hours later can act as witnesses to this.
Both played to packed houses, both saw two Premier League sides pushed to the limit and both contained all the ingredients that makes the FA Cup special.
Chelsea, winners against Barcelona and Bayern Munich on the way to claiming Europe's elite trophy last May, were rattled and only seven minutes from defeat in the face of Brentford's adrenalin-fuelled challenge and a sandtrap pitch that revived memories of the 70s - and made the contest all the better for that.
The smiles on the faces of Brentford's supporters, the standing ovation they gave their players and the plans already being made for the return at Stamford Bridge proved that the FA Cup is a gift that continues to give.
David Pleat was Luton Town's manager when they were moments away from victory in the FA Cup semi-final against Everton at Villa Park in 1985 and he disputes the free-kick that led to Kevin Sheedy's late equaliser to this day.
He was a BBC summariser at Griffin Park and he said: "The FA Cup is about David v Goliath. It is about unequal battles you see from time to time. It is not about staid games between clubs, such as Manchester United's walkover against Fulham.
"This is a real cup tie. This is a fantastic day for a smaller club and the chance to unseat a bigger rival."
Brentford did not quite unseat Chelsea. They came mighty close and the atmosphere in the streets around the ground was still electric a long while after the final whistle.
The Bees will travel to Chelsea with hope while Oldham will aim to do to Everton what they did to neighbours Liverpool. MK Dons will look for further progress against Barnsley while Leeds will revive memories of some great old battles when they visit Manchester City.
We may say the FA Cup is back - but has it ever really been away?