Split loyalties for Portuguese fans
Last updated on .From the section Football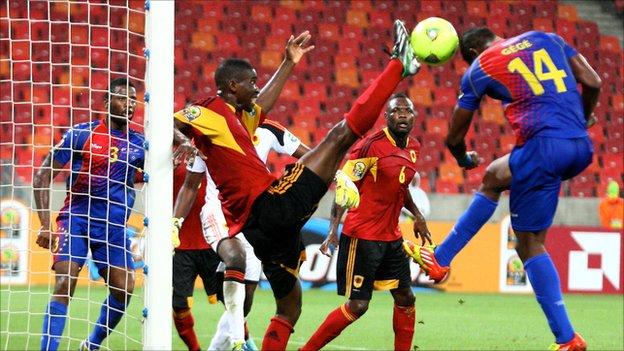 Spare a thought for Portuguese football fans who follow the fortunes of Cape Verde and Angola.
As the two teams tussled in a nerve-shredding contest in Port Elizabeth on Sunday, they were left biting their nails as they followed the twists and turns of the first Africa Cup of Nations clash between their two former colonies.
Around 77,000 Cape Verdeans and Angolans still live in Portugal and in football the ties run deep.
Many footballers from Portuguese-speaking Africa play in the European country's Premier League and in the national team.
On Sunday, many Portuguese locals leapt to their feet as a stoppage time goal from Heldon allowed Cape Verde to snatch an unexpected 2-1 win over Angola and a place in the quarter-finals.
However, within seconds the fans were also voicing their disappointment at Angola's exit.
Striker Heldon, like many of his Cape Verdean team mates, plays in Portugal.
Had the Maritimo forward got his hands on any Sunday editions of Portugal's national newspapers, he would have seen the Cape Verde v Angola clash splashed across several pages.
Before the tournament, Cape Verde set up their training camp in Portugal's southern region of Algarve and coach Lucio Antunes, on leave from his job as an air traffic controller, even went on a week-long research trip to Spain with Real Madrid's Jose Mourinho to learn some tricks of the trade.
Portugal's best player of all time, Eusebio, rose to greatness in the 1960s after moving to Lisbon from former colony Mozambique.
Half a century later, the European nation still turns to Africa for talent, having naturalised internationals Nani, Rolando and Nelson: all born in Cape Verde.
On Sunday, French-Portuguese TV commentator Olivier Bonamici summed up the mood in Portugal as Cape Verde and Angola locked horns in Port Elizabeth.
"It's awful for us but, right now, it's South Africa and Morocco that qualify (for the last eight)," Bonamici said on Portugal's Eurosport channel just before halftime when it seemed that the two colonies were out of the running.
"What a disappointment would be not to have a single Lusophone (Portuguese-speaking) country go through."
When the final whistle was blown in Port Elizabeth, Bonamici celebrated Cape Verde's unexpected qualification, sympathised with his "Angolan friends" and thanked the viewers for tuning in to a match that had been a "Lusophone party".