Morocco coach defiant after exit
By Seth Bennett
BBC World Service, Durban
Last updated on .From the section Football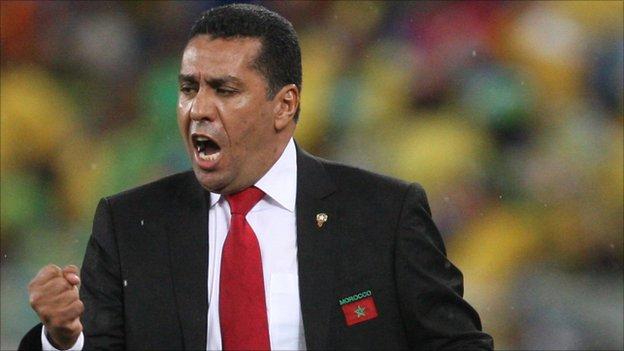 Morocco coach Rachid Taoussi remains upbeat despite his team's exit from the Africa Cup of Nations.
The Atlas Lions missed out on a place in the quarter-finals after drawing 2-2 with South Africa in Durban.
The point they secured at the Moses Mabhida stadium was rendered useless by Cape Verde's 2-1 win over Angola.
After Algeria's exit on Saturday, Morocco became the second North African team to be sent packing.
But Taoussi feels the 1976 African champions can take a lot of positives out of their performance in South Africa.
"I am upset that we are out of the tournament, but I am very happy with the team because they worked hard to improve over the last few weeks," said Taoussi.
"The balance sheet and the result is positive for us," he added.
Although some have criticised the Atlas Lions' results in South Africa - where they drew all three games - the coach has no complaints.
He said not losing any of the three matches is a positive thing and is hopeful that his side will continue to improve.
"We have an average age of 24 years old and now I will ask the coaches in Morocco to work hard to try and produce more good young players like some of these in the squad here.
"I am a man for challenges, I have had a lot of success of with junior teams three teams have been to finals.
"I have only had this job for three months, I have only worked with the players for two months and we can see the impact that this has had on the team."
When asked by journalists if he had told the Moroccan players to waste time during the match against South Africa, Aachid Taouissi reacted angrily.
"We scored the first, we almost won the game with the second goal, you analysts lie to yourself if you think that; it was South Africa who were in trouble not Morocco."
With Morocco set to host the next Africa Cup of Nations in 2015, Taouissi feels the experience of playing in this tournament will help his players.
"My attention now turns to the World Cup; we have lots of games coming up and I think that our focus now turns to qualifying for the World Cup in Brazil.
"That is our short term goal and the long term goal is the next Cup of Nations that we will host in Morocco and then you will see how far this team has come."