Stoke's Glen Whelan in clear over tackle on Javi Garcia
Last updated on .From the section Football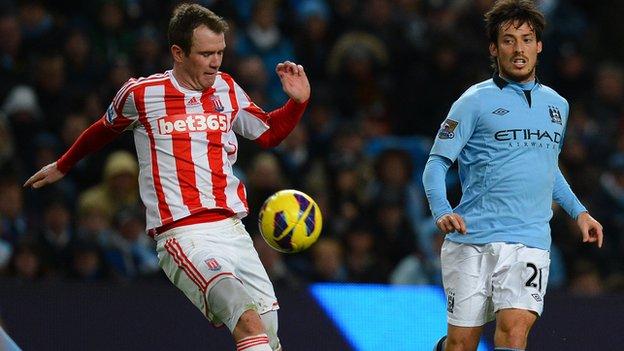 Stoke's Glenn Whelan will not face any retrospective action over his two-footed tackle on Manchester City's Javi Garcia during Saturday's FA Cup tie.
The Football Association can only take retrospective action if the incident was not seen by the match officials.
Whelan defended the challenge, saying: "I don't think I caught him as much as he was rolling about. "
The incident occurred in the second half when Whelan appeared to jump two-footed into a tackle with the City midfielder. Webb was less than 10 yards away but chose only to award a free-kick.
Garcia received treatment to his ankle, but finished the game.
After the game the Stoke midfielder, 28, added: "It's the English game and that's what the Premier League is good for. Hopefully it [tackling] can stay in the game and people just get on with it."
Manchester City's Gareth Barry suggested that Webb's view had been impeded and hinted that he thought action may be possible.
The England midfielder said: "I spoke to [Webb] and he said he didn't have the right angle on it but Javi, in the changing room, said the player went in with both feet and caught his ankle.
"But I don't want to speak badly against Glenn Whelan. He's a great pro and I'm sure he went for the ball."