Aston Villa owner Randy Lerner backs manager Paul Lambert
Last updated on .From the section Football197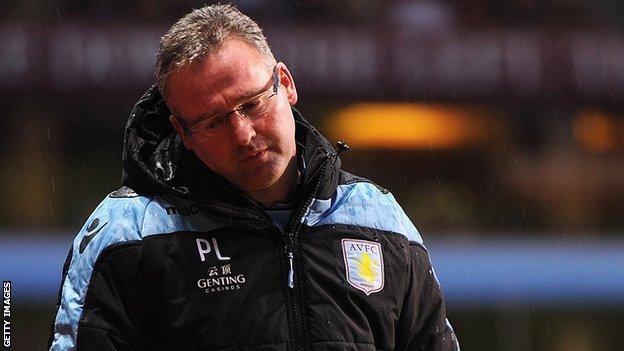 Aston Villa owner Randy Lerner has backed manager Paul Lambert after a disastrous week for the club.
"In the time I've come to know Paul, what is clear is his strength of character and belief in his approach to football," said Lerner.
Villa are also on a run of six Premier League games without a victory.
But Lerner added: "Fortunes can shift quickly in this game and a sense that one has it right can become grave doubt in a matter of a few games."
Lambert said he shared an encouraging phone call with Lerner after the defeat to Millwall and was told to "keep on fighting".
"We have an excellent relationship and talk all the time," said the Villa manager.
When asked if there was any chance he would quit, Lambert replied: "No. I can only do, or try to do my best.
"There's no chance I'd walk away from it.
"You have to fight like anything to get up. You pick yourself up - there's no point in lying down and accepting it.
"I've never had a run like this as a manager or been hit from pillar to post like this. It's an experience you take on board and you use it.
"You can't have everything going your way in your managerial career every single time. You have to take the rough with the smooth and when the rough comes you take it."
Villa, who face fellow strugglers Newcastle at Villa Park on Tuesday, are one point above the relegation zone and Lambert believes his side need six league wins from 15 games to stay in the top division.
He insists Villa must "hold their nerve" for the scrap that lies ahead to retain top-flight status.
"Is the squad good enough to keep Villa up? Yes," said Lambert.
"The difference is Newcastle can go and buy and we can't, but that's fine, you have to go with it.
"You have to fight for everything. Every game is going to have to be a cup final. We have to hold our nerve and fight for everything."
Lerner, who has put more than £250m into the club in just over six years - including its purchase - is in regular contact with Lambert, 43, about possible transfers during the transfer window.
But Lerner has told him the amount of money available to buy players is limited.
"We need a few in," added Lambert. "I'm not going to say 'we need four or five' because people will have a perception of what they think. I know in my own head.
"We brought in some lads in the summer. I knew the club had to rebuild. Randy wanted us to rebuild it and I knew that. We have brought in seven players."