Scottish Premier League clubs support league shake-up plans

By Chris McLaughlin
Senior Football Reporter, BBC Scotland
Last updated on .From the section Football350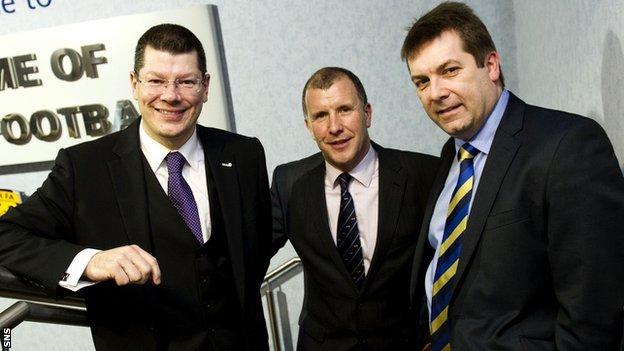 Scottish football is edging closer to reconstruction after the country's top 12 clubs backed proposals for a new league model.
SPL clubs agreed on a new setup that would see the current format replaced with two leagues of 12 and one of 18.
The plans will be put in place for next season if ratified by Scottish Football League clubs at a meeting on Thursday.
"The clubs were united in their view about the need for change," said SPL chief executive Neil Doncaster.
"I firmly believe that any change can only come from consensus and there's one consensus model for change going forward.
"The SPL clubs have been clear today that they, in principle back this being taken to the next stage."
Doncaster insisted the mood of the meeting had been positive.
"It was a good discussion," he said. "It's always a robust discussion between SPL clubs, but a positive one.
"It's now for the Scottish Football League clubs to give their views on Thursday."