FA Cup: Luton v Millwall will be safe, say Hatters
Last updated on .From the section Football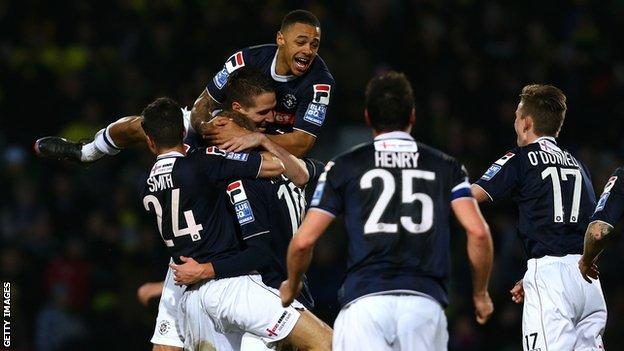 Luton Town are confident their history with Millwall will not create an unsavoury atmosphere when the sides meet in
Away fans rioted at Kenilworth Road in 1985 when the two teams met in a sixth-round tie, which the Hatters won 1-0.
"Nobody should have any fears about it," Luton chief executive Gary Sweet told BBC Three Counties Radio.
"Millwall have moved on. They have done an awful lot of work to convert Millwall."
The Kenilworth Road riot, on a Wednesday night in March, was one of the major displays of football hooliganism during its height in the 1980s, and caused injury to 47 people, including 33 police officers, and saw 31 people arrested.
Luton subsequently banned away supporters from their ground for four years and introduced an identity card system.
The clubs have met numerous times since and Millwall have made large steps in clamping down on their hooligan contingent.
"I was at the game in '85 and, as scary as that was, I think we've moved on as a society, let alone moved on in football," added Sweet.
"I can categorically tell people that the way we will go about managing this game will be professionally and with the highest category of security.
"That's not because we fear trouble. It's because we feel we can stem any of that.
"Within the ground and immediately around the ground will certainly be a safe environment. We will have a big meeting, with the police involved, like we do with any big game.
"And of course we will be in regular contact with Millwall about how we sell tickets."
Captain Ronnie Henry had expressed his disappointment at not drawing one of the Premier League's big clubs, following his side's
But boss Paul Buckle, who also oversaw a third-round victory at home against Championship Wolves, insists Millwall will be an exciting fixture.
"There is no disappointment at all," he said. "Everyone would like Manchester United, especially if you're from the lower leagues. Plus my son supports them so he'd kill me if I said anyone else.
"But Millwall at home is a brilliant tie for us. I witnessed that fantastic day against Wolves. It was an unbelievable atmosphere. Under normal circumstances we'd probably have to wait some time to get that again.
"Wolves was out of this world and I have a feeling this could be even better, in terms of atmosphere."