Adebayor shuns personal glory in South Africa
Last updated on .From the section Football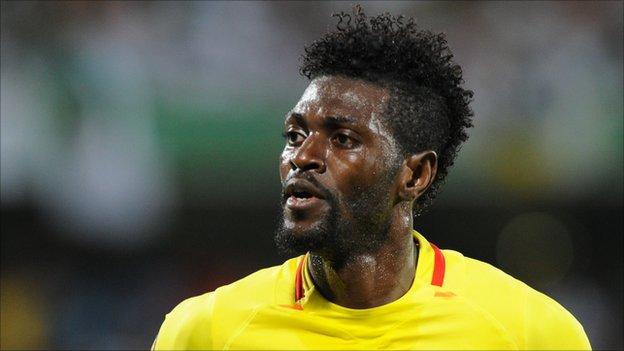 Emmanuel Adebayor says he is not worried about making an impression at the Africa Cup of Nations.
The Togo captain just wants to score goals.
Adebayor has shrugged off criticism that he has yet to dazzle at the event, saying that his focus is not to show off his skills but to help his team to advance.
The Tottenham striker scored his first goal of the tournament in a 2-0 win over Algeria on Saturday.
The result left Togo needing just a draw against Tunisia in their final Group D match on Wednesday to reach the quarter-finals for the first time.
"The most important thing is not to see the great Adebayor, but to see a goal-scoring Adebayor," he said.
"My mission is to score goals. If people think that they haven't seen the great Adebayor, so be it.
"I haven't come here for fame and glory. I came here to win matches."
Adebayor was Togo's biggest threat in the opener against Ivory Coast but missed a few key opportunities to score and help avoid his team's 2-1 loss.
"I'm delighted to have scored my first goal (in the African Cup)," he said.
"The first goal is always important and I hope that there will be many more to come."
Adebayor, who was struggling with Tottenham before joining up with Togo, has also shown his leadership off the field, using his status as a top international player to bring attention to the problems involving his national team.
Adebayor was fighting for his team-mates' rights even before the tournament started.
He threatened not to play at the tournament because of security concerns and disagreements with Togo's federation over bonus payments for players.
"Someone had to take action and, as the captain, I did it," the striker said.
"If the government, the people and everyone else are willing to roll up their sleeves and believe in Togo, we can achieve great things together.
"I'm here to help Togo win, nothing more.
"If you want to see me having fun, then you meet me in May during my holidays. Now I'm all about business."