Hereford United losing £30,000 per month, says David Keyte
Last updated on .From the section Football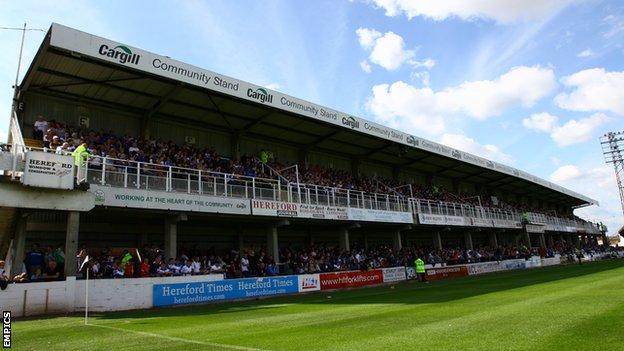 Hereford United chairman David Keyte has warned that the club are still losing around £30,000 per month.
However, Keyte now reveals that this only balanced the books until Christmas and that the club are still in a desperate financial position.
"The task is back to square one," Keyte told BBC Hereford and Worcester.
"It's been made more difficult because we thought we had four home matches in January and we have lost two to the weather, so it's the same struggle.
"It's been a struggle for the supporters so we have had one at 1,400 crowd and one at 1,500, so we are certainly still losing £30,000 per month."
Keyte acknowledges that a combination of the cup run and the poor weather means they will be in for a busy end to their campaign, with 21 games in around three months.
But he says the conditions later in the season could be more to the liking of manager Martin Foyle's young squad.
"Maybe to have a dozen fixtures in March and April might just suit us as we're not the sort of side to slog through the mud," he said.
"We want to get Marley Watkins flying down the wing.
"We started the season well in August and we have top-of-the-ground players, so maybe that might come back."