Scottish FA confirms Danny Wilson's League Cup eligibility
Last updated on .From the section Football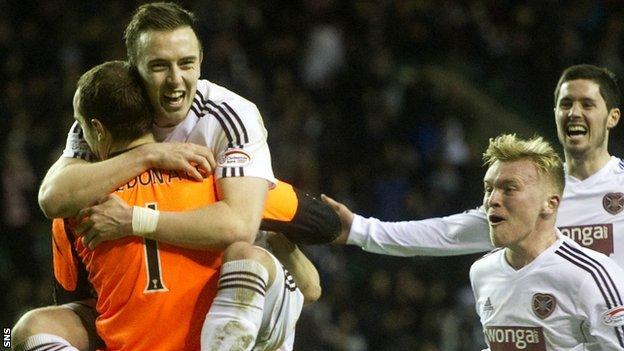 The Scottish FA has confirmed Danny Wilson was eligible to play for Hearts in
Beaten semi-finalists Inverness had sought to clarify from the SFA when Wilson had served a suspension he picked up while with Rangers in 2010.
The SFA tweeted on Tuesday: "One match League Cup suspension notified to FA, as per FIFA regs, when player moved to Liverpool in 2010."
It pointed out that Wilson served his ban at the beginning of season 2010/11.
"FA does not operate competition-specific disciplinary procedures, so suspension served in first match of 2010/11 (Liverpool v Arsenal)," added the SFA in a subsequent tweet.
"No outstanding suspension notified to Scottish FA when player returned to Scotland, so he was eligible to play in League Cup semi-final."
Inverness had been aiming to reach their first major cup final, losing to Hearts on penalties at Easter Road.
Their manager Terry Butcher told reporters at his team's media conference on Tuesday that he considered the matter closed.
He said: "The club wanted clarity from the SFA; it has got that.
"The ban was served down south and that is fine with us. As far as we are concerned Danny Wilson was eligible to play, he played very well and that is the end of the story.
"Hearts are in the final and we wish them good luck."
His Hearts counterpart, John McGlynn, speaking ahead of Wednesday's Scottish Premier League match against Dundee, said: "Hearts have done nothing wrong at all.
"We asked for clarification from the SFA and they told us that Danny didn't have any suspension and was eligible to play and that's what happened, and that is how we see it after checking again and again and again."
In a statement issued on Monday, Inverness had said the club would be seeking "further details and an explanation" about when Wilson served the one-game ban he picked up while playing for the Ibrox side.
Wilson's ban, specifically for one Scottish League Cup game, is recorded in SFA documentation dated March 2010.
The 21-year-old was sent off in the 2010 League Cup final, as a nine-man Rangers team defeated St Mirren.
The defender moved to Liverpool before the suspension could be served, but the Inverness statement continued: "We have spoken to the SFA disciplinary committee who have confirmed that Danny was eligible to play on Saturday.
"This was checked out by Hearts and the SPL prior to Saturday's game.
"There was no notice of suspension accompanying his registration paperwork when he returned from Liverpool."
Wilson's Liverpool debut came in an English League Cup tie at home against Northampton.