SPL independent commission into Rangers player payments begins

By Chris McLaughlin
Senior Football Reporter, BBC Scotland
Last updated on .From the section Football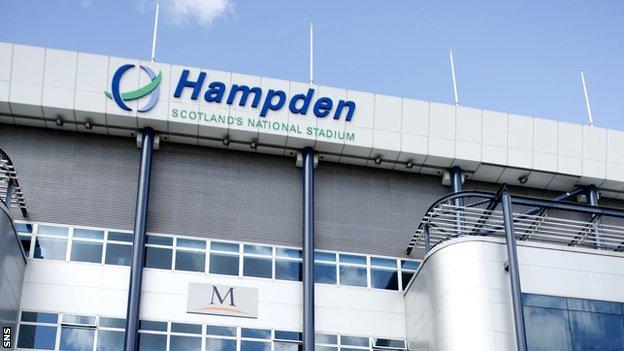 An independent commission chaired by Lord Nimmo Smith has begun its investigation on Tuesday into whether Rangers failed to register payments to players properly between 2000 and 2011.
The three-man commission will decide if the company that formerly ran Rangers broke Scottish Premier League rules.
"There were allegations that a number of SPL rules were broken," said SPL chief executive Neil Doncaster.
"Those allegations are complicated and are serious."
And Doncaster added: "It's for an independent commission to take forward these complex issues and decide whether any SPL rules were in fact broken and, if indeed they were, to decide on any sanction.
"It's an independent process. I'm not going to predict when there might be an outcome."
The commission will study the financial arrangements made by the Employee Benefit Trust scheme run by former Rangers owner Sir David Murray's company, Murray International Holdings.
Lord Nimmo Smith will be assisted at Hampden by Charles Flint QC and Nicholas Stewart QC.
According to the Scottish Football Association's registration rules, payments received by a player solely relating to his playing activities must be fully recorded and declared, otherwise the player has been improperly registered.
If a player is deemed to be improperly registered, the norm is for his team to forfeit any match in which he has participated.
The probe was launched before the company that ran Rangers - Rangers Football Club plc - was consigned to liquidation.
The consortium now running the club, led by chief executive Charles Green, has refused to recognise or co-operate with the investigation.
Rangers issued a statement on their website at the weekend calling for the investigation to be halted.
There are a range of sanctions that can be applied to the 'oldco' Rangers, the most serious of which would be the stripping of league titles.
In November, who were facing a tax claim by HM Revenue and Customs in relation to the use of EBTs, ruling that the payments were loans that can be repaid.
HMRC has sought approval to appeal against the FTTT verdict.
The SFA and SPL rules are not the same as those relating to tax.
Rangers chief executive Charles Green said the FTTT verdict "undermines" any investigation set up by the league.
And manager Ally McCoist said of the SPL's independent commission: "I would be extremely hopeful that common sense would prevail and the SPL could now drop it."
Rangers are being represented at Hampden by lawyers paid for by the Rangers Fans Fighting Fund.
It released a statement last month arguing that "it is absolutely crucial that Rangers' titles remain untouched".
And it added: "But because there has been a long-running campaign in the media and within certain other clubs to punish Rangers we must do everything within our power to protect the club's proud history."
Should the commission rule against Rangers 'oldco', their route of appeal is to the SFA.
Rangers won the SPL five times in the period in question.
Former Rangers striker Billy Dodds: "I worked hard from provincial clubs up to the top, got my rewards and then they all might be swiped away.
"I won a lot of trophies at Rangers and I know it was pure effort and endeavour, so for someone to take it away, especially after the law courts finding no case to answer, it would be bordering on the crazy side of things."