Dean Marney: Burnley midfielder wins red card appeal
Last updated on .From the section Football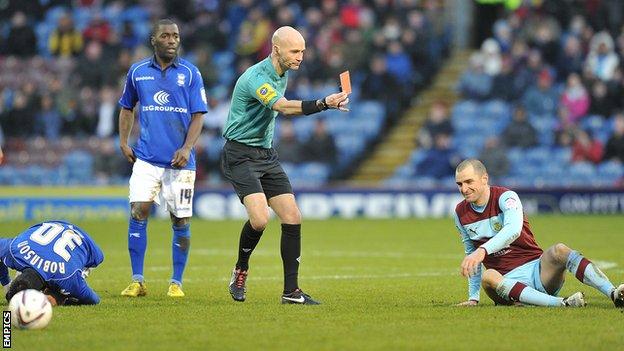 Burnley midfielder Dean Marney has had his red card against Birmingham on Saturday rescinded, meaning he will not serve a three-match suspension.
Marney was sent off by referee Darren Drysdale for a tackle on Paul Robinson during a
Afterwards, Clarets boss Sean Dyche said the decision was "unacceptable" and Burnley launched an appeal.
The 28-year-old is now available for the Championship fixture at struggling Peterborough on Saturday.
"It does not stop us being aggrieved at the decision, which clearly affected the outcome of the game," Dyche told the club website.
"We looked good value to go on and get the three points.
"But on this occasion the appeal decision has been a positive one for us and rightly so.
"I made it clear how I felt at the time, and after watching the incident again, and that view has been totally vindicated.
"We put our faith in pursuing the matter through the right channels and we are pleased that the process has gone in our favour."