Celtic: Neil Lennon bemoans unsettling effect of transfer window
Last updated on .From the section Football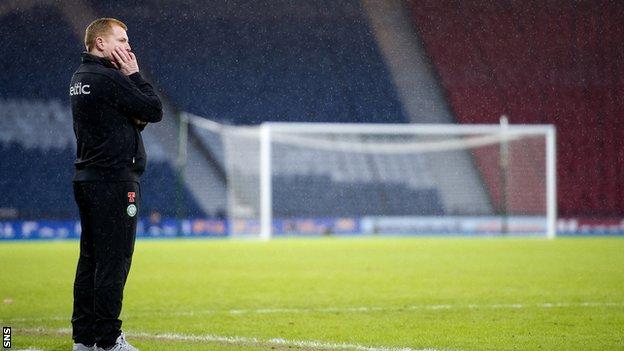 Celtic manager Neil Lennon has admitted the January transfer window is creating unsettling times at the club.
It is just over two days until the deadline and there have been no fresh bids for Hoops striker Gary Hooper.
Lennon's side play Kilmarnock in the Scottish Premier League on Wednesday.
"I'm trying to prepare for games Saturday-Wednesday-Saturday for the next few weeks and in the back of your mind you're thinking; what players am I going to have?" said Lennon.
"It's just a mad rush for a month where you're living in a world of uncertainty and at times you're vulnerable.
"I think that always throws up huge uncertainties in managers thoughts.
"At times you're not sure of what you're going to have at the end of the month."
Since Celtic rejected two bids from Premier League side Norwich City for Hooper, there have been no further offers for the Englishman,
Lennon said: "We've only had two separate bids from one club and it was nowhere near - we haven't even asked for a price.
"I'll reiterate again, I don't want to sell him, the club doesn't want to sell him."
"If and when a huge bid does come in, we'll take it as it comes, but my objective for the 1 February is for Gary Hooper to be playing for us."
Reflecting on the league cup semi-final loss to St Mirren, the Celtic boss conceded his team seems to have a mental problem with playing at the national stadium.
"I actually think that there may be a psychology there about playing at Hampden," said Lennon.
"They were in scintillating form going into the game but they can't seem to replicate that at the national stadium for some reason.
"So that's something I'll need to address when we get there again.
"We have to overcome whatever mental deficiencies they have about playing there, but there's definitely a dip in the performances when they go and play there.
"We seem to get there consistently in the majority of the competitions. However, we have to finish it off."
Lennon also wants more of his players to take more responsibility on the pitch, citing the likes of Kelvin Wilson, Charlie Mulgrew, Joe Ledley and Georgios Samaras as team mates who could share the burden with captain Scott Brown.
"It's not all down to Scott [Brown]," Lennon said.
"We have a great captain but I want more leaders on the pitch."