Africa Cup of Nations 2013: Nigeria have Ivory Coast plan
Last updated on .From the section Football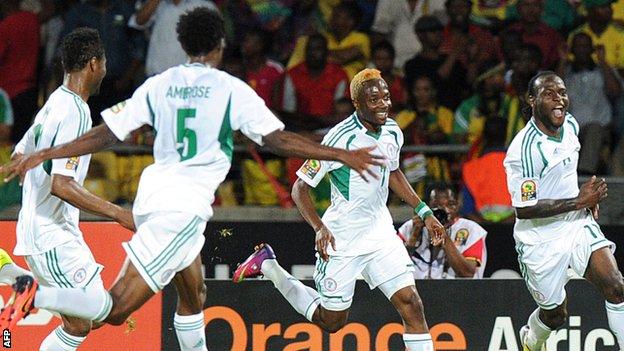 Head coach Stephen Keshi insists he has the "game plan" to beat Ivory Coast after Nigeria qualified for the Africa Cup of Nations quarter-finals.
They will now face hotly-tipped Ivory Coast after they secured top spot in Group D with one fixture to spare.
Keshi, 50, said: "Now we face title favourites Ivory Coast. I have a game plan but that is for the players."
Nigeria and Zambia came into the final round of matches in Group C tied on points, goal difference and goals scored.
Zambia had accrued less yellow and red cards, and with both games locked at 0-0, Herve Renard's side would have progressed due to their superior disciplinary record before Moses broke the deadlock in the 79th minute.
"I wasn't checking the scoreline of [the other] match, I wasn't paying attention," Keshi said. "I was focused on my team, my concern was for us to get one goal.
"Ethiopia was a very good team and we knew that every opportunity could make the difference. Soccer is a 90-minute game."
Star midfielder John Obi Mikel echoed Keshi's words about the hard-fought victory.
"We knew they [Ethiopia] were coming looking to win the game as well," he said. "They were very organised in the middle and we tried to make sure we didn't play in the middle. All throughout the game it was tough."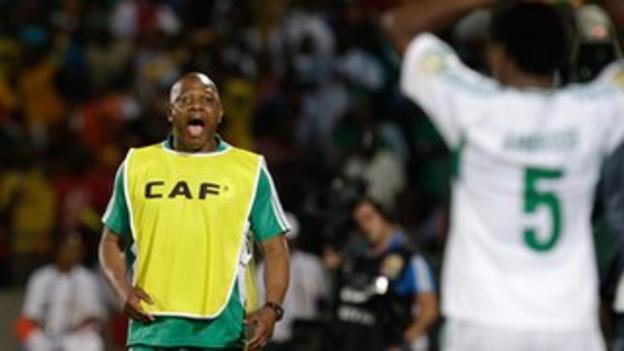 Keshi had come into the game on the back of fierce criticism at home after his new-look Nigerian side had surrendered leads in two laboured 1-1 draws against Burkina Faso and Zambia.
The former international defender had also been questioned after he decided to discard established names such as Taye Taiwo and Peter Odemwingie in a bid to bring through a new generation of players. He believed the worth of this approach had been proven by his side's progression in South Africa.
Keshi said: "I thought Sunday Mba was outstanding in midfield and his introduction is part of my plan to build a team around young players, and senior players like captain Joseph Yobo, vice-captain Victor Enyeama and John Obi Mikel.
"This is a victory for Nigerians where ever they are in the world. This is a time for celebration."
While Nigeria were left to celebrate a quarter-final date with Ivory Coast on Sunday, Ethiopia exited at the bottom of the table as they endured a difficult first qualification since 1982.
"We were playing well but unfortunately in the end we allowed the goals," Ethiopia coach Sewnet Bishaw said.