Zambia coach Renard hits out at Caf
Last updated on .From the section Football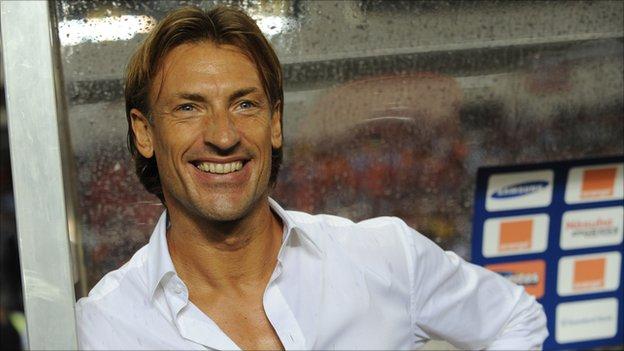 Zambia coach Herve Renard has criticised African football's ruling body for not giving them the chance to represent the continent at this year's Confederations Cup.
The Confederations Cup, a dress rehearsal for the World Cup, is an event featuring continental champions.
Zambia, having won the Cup of Nations in 2012, would normally be flying the African flag in Brazil.
But the 2013 African champions, and not Chipolopolo, will go to South America.
This is due to the decision by the Confederation of African Football (Caf) to switch the Nations Cup from even to odd-number years to avoid clashing with the World Cup.
Renard, speaking out in the aftermath of his team's first round exit in this year's Nations Cup on Tuesday, felt Zambia should have been given the opportunity in a face-off against the team who will be crowned 2013 Nations Cup winners on 10 February.
"Caf are very happy that Zambia are not going to the Confederations Cup, they think we are not sexy or famous enough to represent Africa - that's the truth," said the Frenchman.
He added: "It would be fairer if the winner between the 2012 Nations Cup champions and the 2013 winners went.
"But it never entered their thinking; Caf don't want us to go.
"They made their decision, and it is the 2013 Cup winners who will represent Africa, not us.
"Unfortunately, we were only champions for one year."
Zambia's title defence ended when three successive draws left them stranded in third place in Group C behind Burkina Faso and Nigeria.
Despite becoming the first champions since Algeria in 1992 to fail to progress to the knock-out stages, Renard praised his players.
"Everybody is sad but my players did their maximum, and I'm very proud of them."
As for his own future as Zambia coach, Renard intimated that he would still be in the post to supervise their qualifying campaign for the 2014 World Cup.
"Zambia's not like other places in the world," he said in a reference to the way some national coaches are asked to fall on their swords straight after a setback such as the one suffered by the fallen champions.