Liam Brady to leave Arsenal academy role in May 2014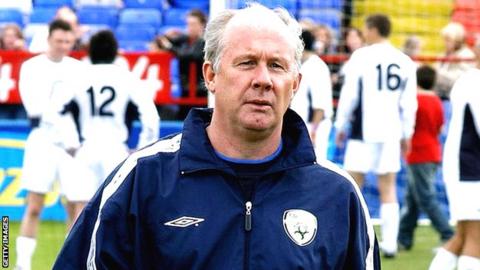 Liam Brady will leave his position as Arsenal's head of youth development and academy director in May 2014.
The 56-year-old former Republic of Ireland midfielder made 307 appearances for Arsenal in the 1970s before returning to run their academy in 1996.
He presided over three FA Youth Cup wins and back-to-back Academy Premier League titles in 2009 and 2010.
Brady has helped produce the likes Jack Wilshere and Kieran Gibbs, and he will remain involved with the club.
Among his options is a scouting role but in the meantime he will help Arsenal in their search for his successor.
"Liam has a deep understanding of what it takes to discover and develop a talented youngster into someone who can perform at the highest level," said Arsenal chief executive Ivan Gazidis.
"He has made a massive contribution to Arsenal Football Club. It will be difficult to find a worthy successor but we will be looking for someone who can build on what Liam and his team have created."
Brady was born in Dublin but joined Arsenal as a 15-year-old in 1971 and made his debut for the Gunners two years later.
He played a key role as Arsenal reached three consecutive FA Cup finals between 1978 and 1980, securing the trophy in 1979.
Brady went on to play for Italian clubs Juventus, Sampdoria, Inter Milan and Ascoli before before returning to England with West Ham.
After management roles at Celtic and Brighton, he returned to Arsenal under manager Arsene Wenger and overhauled the youth set-up.
He was closely involved with the development of players such as Ashley Cole, Cesc Fabregas as well as Wilshere and Gibbs.