Caf denies rumours of Zambia reinstatement
By Piers Edwards
BBC Sport
Last updated on .From the section Football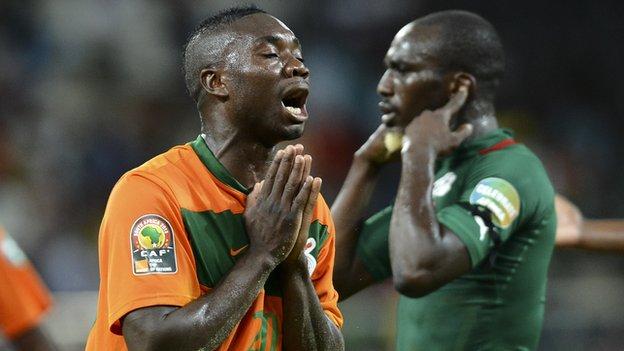 The Confederation of African Football has denied that defending champions Zambia have been reinstated in the Africa Cup of Nations.
Thousands celebrated across Zambia on Wednesday as a rumour spread that Group C rivals Burkina Faso had been disqualified.
"This is not true," CAF secretary-general Hicham El Amrani told BBC Sport.
Zambia exited the finals on Tuesday after drawing 0-0 with the Burkinabe.
The point, which left last year's winners third in Group C, represented the first time the defending champions had failed to reach the knock-out stages since Algeria suffered the same fate in 1992.
As the rumour of a reprieve spread, Zambians in the capital Lusaka and elsewhere started to take to the streets in celebration.
"This was not only in Lusaka but across Zambia," Mwandama Arnold, 32, told BBC Sport.
"When the rumour came in, people started celebrating with the main street in Lusaka full of cars hooting and people whistling in celebration."
Another Chipolopolo fan witnessed the same scenario.
"I got the news at around half four in the afternoon," said Daniel Banda.
"I just heard lots of cars honking outside my office window and wondered what was happening."
The 35-year-old was soon told the false report that Burkina Faso had been disqualified for fielding an ineligible player.
"Thousands of fans have been celebrating - it was amazing, like we had won the cup again," added Banda.
"This morning, Lusaka was very quiet and no one was wearing any Zambia jerseys but when the news broke of our 'reinstatement', people started buying jerseys, wearing scarves and there was a lot of honking."
The precise nature of the rumour's origins are unclear although it is widely believed to have started in Lusaka.
Last year, Burkina Faso were docked World Cup qualifying points after fielding an ineligible player in an encounter with Congo.