Time for Mario Balotelli to deliver - Marcello Lippi
By Simon Austin and Rosy Voudouri
BBC Sport
Last updated on .From the section Football11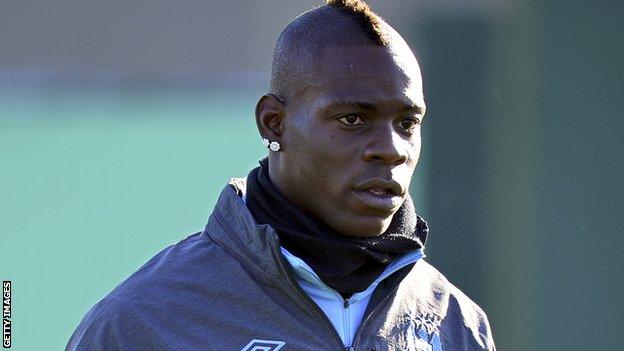 Italy's World Cup-winning coach Marcello Lippi says the time has come for Mario Balotelli to prove how good he is following his move to AC Milan.
"He is a player with great potential, talent and quality," said Lippi.
"He needs to think more about football and less about things outside football, because he can really do very well."
Lippi, 64, is one of the most successful coaches in the history of European football. He won the World Cup with Italy in 2006, and has also claimed five Serie A titles, the Champions League, European Supercup and Intercontinental Cup.
Now coach of Chinese side Guangzhou Evergrande, Lippi is a long-time admirer of Balotelli, although he chose not to take the player, then 19, to the 2010 World Cup when he was in his second stint as Italy manager.
However, the Italian also believes the striker can thrive at AC Milan.
"If I had remained as Italy coach, I would definitely have included him in my plans to rebuild the squad," he told BBC Sport.
"Milan is an important team, a young team and he has always wanted to play for Milan. It all depends on him and only him."
Although the Premier League is often described as the strongest league in the world, Lippi believes Italy will be a good destination for Balotelli.
"Juventus and Milan are through to the last 16 of the Champions League," he said. "The national side went to the finals of the European Championship and only lost to Spain, the strongest team in the world. Therefore, I think Italian football is in good health."
Lippi has also defended the record of Manchester City manager Roberto Mancini, who agreed to the signing of Balotelli for 22m euros (£18.9m) in August 2010 and was criticised for sticking by the striker following several controversial incidents.
Mancini's position at the Etihad has also been under scrutiny. They currently lie nine points behind Manchester United in the Premier League and exited the Champions League in the group stages.
"City are second in the league and have achieved some important results in the last few weeks," Lippi said. "It's true they have been knocked out of the Champions League, but it doesn't seem to me that Mancini's position is in question. It's only the papers that question it.
"He has won an FA Cup, he has won the Premier League. I think he has done exceptionally well."
Lippi signed a contract with Guangzhou in May 2012 but has already been linked with the Real Madrid job, after his former Juventus charge Zinedine Zidane reportedly recommended him to the Spanish side's hierarchy.
Lippi is having none of it, though. "No, no, I don't intend to manage again in Europe, because I've already had a career in Europe," he stated. "Everything I wanted to achieve, I have achieved.
"I want to live this experience and in two years, we'll see. I was looking for a particular experience, completely different to everything else that I've done. I've managed to do that and I'm satisfied.
"Nobody has talked to me. I have a contract for another two years in China and I will respect it. Then, we'll see."
Lippi says he has enjoyed working in China and thinks football there is improving fast.
"It is a fantastic experience," he said. "There is a lot of enthusiasm. From a technical point of view, there isn't much aggression, great pace or pressing. That's what we are working on.
"Chinese football is growing, it's improving. Last season, of the 16 managers in the league, only three were Chinese. The rest were from all over the world. Having managers from different nationalities, that's what's important."
The Italian is dismissive when asked whether the recent departures from Shanghai Shenhua of Nicolas Anelka, who has joined Juventus, or Didier Drogba, who has moved to Galatasaray, will damage Chinese football.
"No, nothing changes," Lippi said. "They haven't changed anything themselves anyway. Anelka only stayed for a year and Drogba for six months. They didn't manage to bring any real change, so it won't get any worse now that they're gone."