Jackie McNamara raises curtain on talents at Dundee United
By Kenny Crawford
BBC Sport Scotland
Last updated on .From the section Football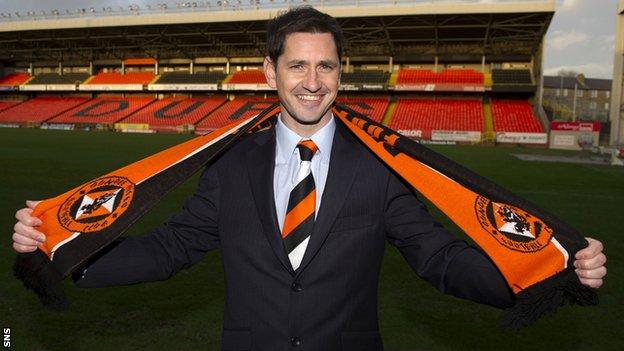 As far as Scottish football's concerned, you just can't script it...
We heard Blackpool wanted Peter Houston (oh, no they didn't!)
Then Houston wouldn't be leaving Dundee United until the end of the season (oh, yes he would!)
Surely Steven Pressley to take over at Tannadice? (oh, no he's not!)
Who then? (He's behind you!)
Even Jackie McNamara, the new Tangerines boss, might've struggled to pen something of that ilk.
And he's a bit of a playwright, you know.
The 39-year-old is currently getting to grips with his new role as a Scottish Premier League manager following his move from Partick Thistle.
But it was just over a year ago McNamara was dabbling in a side-career as writer of a television sitcom.
In 2011, the former Scotland, Dunfermline, Celtic and Wolves full-back teamed up with Scottish comedy actor/writer Francis Gilhooley to create 'The Therapy Room'.
Aimed at adults and pitched as 'Shameless meets Gary: Tank Commander', it charted the progress of a young player catapulted from amateur football to England's top flight.
The duo composed at least seven episodes and, interestingly, it was McNamara's actor brother Donny who took on the role of that fictional footballer.
Many of the ideas for material were said to have come from Jackie's own experiences in the game.
And with he and Gilhooley keen to turn it into a TV series, a pilot was screened in an Edinburgh cinema as they sought to attract a major broadcaster.
Speaking to BBC Scotland in 2011, McNamara said: "I've always enjoyed comedies.
"There's a lot of stories obviously, over a long time - 20 years in football - so this is my way of putting it across.
"I think it would be well past the watershed. As you can imagine, there's a lot of swearing.
"Some players write books and things like that. This is my way of doing things and telling stories."
Alas, the search for that broadcaster to make the whole project go mainstream never materialised.
But perhaps it's just as well.
For McNamara's appointment at United sees him perched beside the Firth of Tay with an alternative type of watershed moment.
Is this young but highly thought of manager ready for the step up?
You would think a nice, straightforward, low-profile first game would be the perfect way for such a gaffer to acclimatise.
That won't be the case.
McNamara has Rangers in the fifth round of the Scottish Cup - and defeat won't be a laughing matter.
Ally McCoist's men will be eager to wipe the smile off McNamara's face, testing his mettle earlier than he may have liked.
The Therapy Room had a descriptive overview which talked of how the transfer window part of the series would allow the storyline to introduce new characters.
Unfortunately for McNamara, there were no fresh Dundee United additions, although retaining Johnny Russell and Gary Mackay-Steven maybe felt like it.
The sitcom plot was also designed to leave viewers wondering whether its situations and events can and do really happen.
The Tannadice audience might soon be able to tell us.
Tell me when it's safe to look.