Man Utd pitch concerns manager Sir Alex Ferguson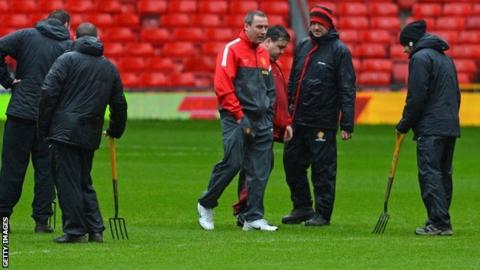 Sir Alex Ferguson said Manchester United will have to contend with the Old Trafford pitch until it is replaced in the summer.
The United manager said the pitch had "collapsed" over Christmas and, after his side's win over Southampton on Wednesday, that the playing surface was "a worry".
"We have to hope for better weather and a bit more sun," said Ferguson.
"We're changing the pitch in the summer but at the moment it's not good."
The Scot added: "We've got artificial lights on it all the time which really helps but the more light we get the better it is for the pitch.
Ferguson put faith in the chief Old Trafford groundsman to solve the problem with the playing surface, which has not been replaced for nine years.
"It's definitely a bit worn out," said Ferguson. "The groundsmen work their socks off and Tony Sinclair is as concerned as anyone.
"We've declined to replace the turf because we believe Tony will get it right.
"But there's no question it's still recovering from those two games over Christmas.
"That killed us and it's never been the same since."