George Boyd: Nottingham Forest U-turn angers Barry Fry
Last updated on .From the section Football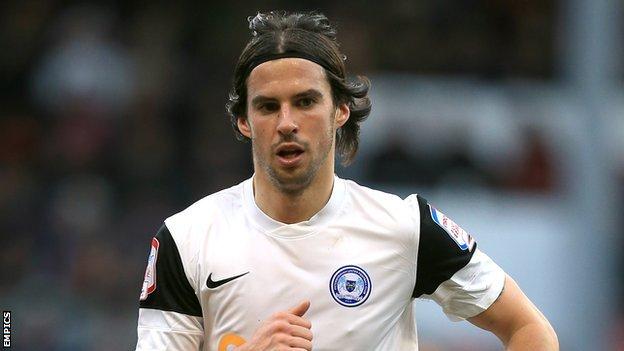 Peterborough director of football Barry Fry has labelled Nottingham Forest's owners "a disgrace to the game".
Posh are furious that Forest pulled out of a deal to sign midfielder George Boyd
Fry refused to blame Forest boss Alex McLeish, instead choosing to direct his ire at owners, the Al-Hasawi family, headed up by chairman Fawaz Al-Hasawi.
"I don't know how they can call themselves fit and proper," said former Birmingham manager Fry.
"Alex has been a gentleman over this, it was the owners who pulled out and they are a disgrace to the game.
"I can't understand why they called it off 12 hours after his medical and after Alex spent three weeks trying to get the player.
"We've never had any problems with George and he's in bits. Alex still wanted to do the deal but the owners said no.
"Alex has been having rows with them for a couple of days about transfer targets. I wouldn't be surprised if he walked over this."
Rumours began circulating that McLeish, who has only been in charge at the City Ground for five weeks, would quit.
But he took training on Friday morning and there has been no indication that the Scot would be leaving.
McLeish had told the club website on Thursday that there has been no bust-up with his chairman, but the Boyd issue may well test their relationship.
"Fawaz is a strong individual, he is the owner and isn't a successful businessman for no reason," McLeish had said.
"Sometimes he will say no to my requests and suggestions and sometimes I will say no to his because I am a strong manager.
"If that's the level of the alleged 'bust-up' then I guess we'll be reading about more managers having them with their owners this week."
Boyd, who had a loan spell at the East Midlands side at the back end of the 2009-10 season, had been in Nottingham since 10:00 GMT on Thursday to undergo a medical.
But news of Forest's decision to pull out of the move emerged two hours before the 23:00 transfer deadline.
It is understood Forest were only willing to sign the 27-year-old on loan.
Crystal Palace had also attempted to sign Boyd, whose contract expires in the summer, but the former Stevenage playmaker opted to talk to McLeish's side.
Posh chairman Darragh MacAnthony has said he would be happy to offer a new deal to Boyd, but has also revealed another Championship club would be interested in taking him on loan next week.
Nottingham Forest said they had no reaction to make to Fry's comments.
But Garry Birtles, a two-time European Cup winner while at the City Ground, told BBC Radio Nottingham it had been a worrying few weeks at the club.
"I you are looking to push on, you want stellar signings who will make a difference and improve your team and give you a chance of getting into the play-offs," Birtles said.
"At the moment they are on a downward spiral and results are not going particularly well. Alex McLeish must have seen January as that month when things could have turned around.
"He has come into probably thinking what a great month this will be for me, 'I can get players in'.
"And it makes you wonder with Frank Clark, Mark Arthur and Keith Burt leaving if people are thinking the club is in a bit of turmoil and this is not the right time to go to Nottingham Forest.
"All this could come into play because agents want to do the best for their players and maybe because of those events at Forest they have been put off by that."