Peter Odemwingie: West Brom striker told to miss training
Last updated on .From the section Football580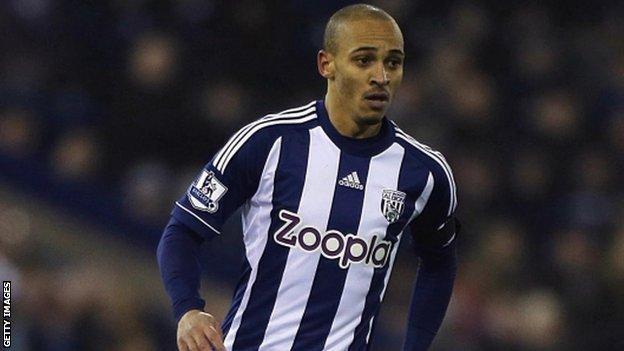 West Brom striker Peter Odemwingie has been told not to return to training until next week.
The 31-year-old tried to force a move to QPR on transfer deadline day.
Odemwingie arrived at Loftus Road but West Brom said no fee had been agreed and he was not free to discuss personal terms.
Speaking outside the West Brom training ground on Friday, Odemwingie said: "I have been given a few days off and will be back in training next week."
Odemwingie met with club board members Dan Ashworth and Richard Garlick and head coach Steve Clarke on Friday morning and will miss Sunday's game against Tottenham Hotspur.
Afterwards, a statement from the club said: "After the events of the past week, the club decided it is in the best interests of all parties that Peter is not involved in Sunday's game and he was given permission to return home."
However, although Odemwingie regrets his actions in travelling to London, he insists his long-term future remains away from The Hawthorns.
"I am a very emotional person who sometimes doesn't think," he told Sky Sports News on Friday.
"I will still leave the club. It is only a matter of time."
Baggies chairman Jeremy Peace accused over the apparent attempt to open talks without the club's permission.
But although Odemwingie admitted he was perhaps a "little unprofessional" he defended himself by claiming the circumstances were not so different to when he joined West Brom from Lokomotiv Moscow in 2010 for £2.5m.
He also put Thursday's actions down to a misunderstanding.
"I came to this club (West Brom) in a wholly unprofessional way. I wasn't given any written permission by Lokomotiv Moscow but I arrived at this club. I did a medical, I don't think everything went so professional when I arrived," he added.
Clarifying his comments, he said: "I'm saying that these things don't matter so much when adults are dealing with each other.
"I think there was a misunderstanding somewhere because I could have held my goodbyes to the [West Brom] players if I was told it is not going to happen."
Odemwingie felt he had been given the go-ahead from West Brom to complete his move to QPR, but conceded he did not have written permission.
He had appeared optimistic that a deal could be reached when he was interviewed on his arrival in west London on Thursday.
"I hope they will be happy with what they get and, of course, they want to get in players themselves. I just hope that everything will be sorted out in the next few hours," he told Sky Sports News at the time.
But Odemwingie said on Friday: "They [West Brom] didn't give me written permission, but you know we are in England and when you're gentlemen you understand each other so easily.
"In my opinion, everything was done right and at the last moment, I don't know what really happened, but I think other people can answer this question as well.
"We were almost there, the club were angry that I went there and it was on TV. They weren't angry that I went there, but when it came up on TV that's when they said that this deal is off and why did I do that.
"So I understand the club to be honest, it was a bit unprofessional but we all know our positions and we were almost there.
"I understand I have to honour any contract but the club know I have wanted to leave for some time now.
"They feel I can overcome that but they are not the ones who know their own heart. They believe while I am struggling I can keep performing on the pitch."
QPR manager Harry Redknapp said he felt sorry for Odemwingie and suggested Junior Hoilett's decision not to go on loan from QPR to West Brom was one reason why any potential move broke down.
"The whole thing was a bit of a mess. I felt genuinely sorry for him. I think there was a mistake. He travelled down and I think he thought the deal was done and that is why he turned up.
"I think he thought 'I better get down, have the medical, sign the forms' - it was just a mistake. It is now difficult as he has to go back to West Brom and get on with his life.
"It wasn't easy. He is not a bad lad, he is a nice, nice boy and that is what disturbed me last night, that he got himself into that situation and there was nothing sort of malicious in it."