Craig Bellamy: Malky Mackay wants common sense from Wales
Last updated on .From the section Cardiff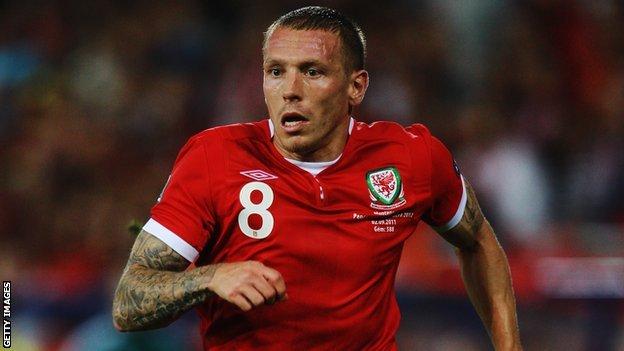 Cardiff boss Malky Mackay hopes Wales counterpart Chris Coleman will apply "common sense" in using Craig Bellamy.
Bellamy, 33, has long-standing knee trouble and Mackay believes Coleman should avoid picking him in friendlies, such as the clash against Austria at the Liberty Stadium on 6 February.
Instead, Mackay says Bellamy should be held back for qualifying matches.
"It's common sense to make sure he plays in the specific ones that really count," said Mackay.
"Whereas [with] friendlies that you can try youngsters in - why would you put him in?"
The Bluebirds striker has not played for Wales since the 2-0 defeat against Bosnia-Hercegovina in August 2012.
He played in the end of season 2-0 friendly defeat to Mexico in New York in May 2012 - Coleman's first game in charge.
Since the ex-Liverpool players has only managed 20 minutes in the friendly against Bosnia as fitness worries kept Bellamy, who has won 70 caps, out of Wales' last four 2014 World Cup qualifiers.
That led to speculation that Bellamy's international career was over, but he has returned to the Welsh squad for Austria's visit.
Wales travel to Hampden Park to face Scotland on 22 March in a World Cup qualifier before hosting Croatia in Swansea four days later.
And Mackay believes Bellamy should not return for Wales until those qualifiers.
The Cardiff manager added: "He's intelligent enough to know how to look after his own body.
"Our medical staff have been magnificent in the way that they've looked after him since he's been back at the football club - and tempering some of the things that his natural enthusiasm wants to go and do.
"But I think his own personal professionalism and discipline about his own body and his lifestyle that means that the management of him and his body has been excellent this year.
"He's surprised a lot of people by playing the four games in 10 days [over the festive period] and I think that's down to both himself and our medical department for that.
"So that being the case, as and when the Wales games come up, I'm sure he will know exactly how long he's got to play in these games.
"If he's got to go, whether it's a friendly or not, I'm on record as saying how delighted I am that we get players at international level and that's something that I don't want anybody to ever stop.
"I want them to play for their country as much as possible.
"Craig's been an advocate of - and a flag-bearer for - Welsh football at various times when other people haven't gone to games.
"So I don't think his commitment can ever be questioned.
"So if he feels that there's a chance that he can go and help Wales and still have plenty of recovery time and be back with us, then it's something that we're involved in as well."
Mackay says Cardiff physiotherapist Sean Connelly's role with Wales ensures a "close relationship" between the two camps that benefit all parties.
"There's a close relationship there in terms of myself and the management of Wales as well in terms of keeping abreast of the situation… it's about common sense," said Mackay.
"He's a top quality player and one that any country would want.
Having moved from Liverpool to Cardiff, Bellamy has helped to take the Bluebirds 10 points clear at the top of the Championship table.