Jaap Stam: 'I want to manage in English Premier League'
Last updated on .From the section Football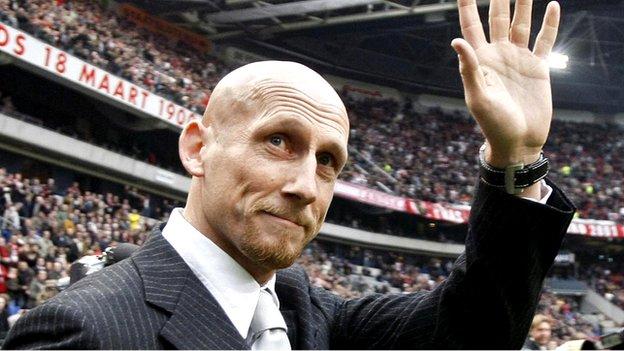 Former Manchester United and Netherlands defender Jaap Stam says in the future he wants to return to the Premier League as a manager.
"As a player, I started at a reasonably small team and worked my way up. As a coach, I'm going to try to do that as well," he told the BBC's World Football programme.
"As an assistant, I'm doing it now. I started at PEC Zwolle. We play in the highest level in Holland but we're not at the top. Next season, I'm going to start working for Ajax. Then I'll be at the top.
"Then, when I get my A licence, maybe I'm going to start as a coach or manager again at a small team and then work my way up to a big team. But my dream is to get back to England."
The 40-year-old Stam, who won the Champions League and three Premier League titles in just three seasons with United, says coaching was never on his mind as a player.
"When I stopped playing football, I said I would not be a coach because you see what kind of pressure football puts on a coach," said Stam, who joined United in a £10.6m deal from PSV Eindhoven in 1998.
"You're always working. Even when you're at home, you talk about football.
"I didn't do much in football for a year when I retired, but after a while the feeling haunts you and you want to go back to football."
Stam, who began his playing career with Zwolle, is among a growing band of former Dutch internationals trying to build a career in coaching.
Patrick Kluivert is a youth team coach at FC Twente and also assistant with the Dutch national team, Phillip Cocu is fulfilling a similar role at PSV Eindhoven, while Arsenal legend Dennis Bergkamp is an assistant manager at Ajax.
Stam thinks it makes sense for players to work their way up the managerial ladder, rather than be dropped in at the deep end as coach of a big club.
"I think it's better to start in a low profile job because it's totally different being a coach or a manager than being a player," said the former centre-half, who left United in a £16.5m move to Italian side Lazio in 2001.
"When you're a coach, you have to think of the whole team - what to do the next day, team meetings, training sessions, what you want to do to make the team stronger, to make the players individually stronger - so it's a big responsibility."
Stam's approach meets with the approval of his compatriot, the former Netherlands, Barcelona and Russia assistant Raymond Verheijen.
An outspoken critic of British coaching, he says ex-players can "kill" their career by taking on too much too soon and insists Stam, Bergkamp and others are doing it the right way.
"They know that they have to start from the bottom," said Verheijen. "By doing that, you learn and you make mistakes in a relatively anonymous situation.
"They make their mistakes when working with 13-year-olds instead of working with the first team.
"By the time they are first-team coaches or even managers, they've made almost every mistake that you can make and they have learned from that.
"In the UK, it's totally different. Without any experience, without any coaching fundamentals, they step into the spotlight.
"They start to manage a first team and make all the mistakes that any coach will make. But in this situation, everybody can see, so, basically, you kill your own career."
World Football brings listeners up to date with the issues, stories and passion behind the world's most popular sport every Friday on the BBC World Service. You can download the podcast here.