Paolo Di Canio: Swindon Town manager 'considers future'
Last updated on .From the section Football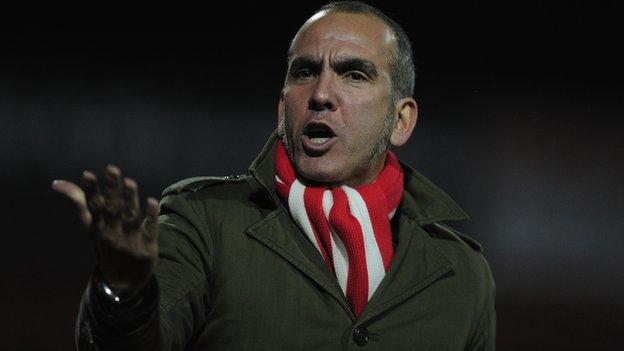 Paolo Di Canio says he is "considering his future" as Swindon boss because of recent off-field events at the club.
The League One club avoided administration after a takeover by a local consortium earlier this week.
But because the deal has yet to be ratified, the Football League refused to let three players join and winger Matt Ritchie was sold to raise funds.
Di Canio said: "I am forced to consider my future as I don't know how I can continue to work in this environment."
In a statement to the Swindon Advertiser, Di Canio added: "With the club selling one of our best players behind my back and continually making promises that are broken, I feel at this moment that my job is not just impossible but is untenable.
"Too many questions remain unanswered. The future is clouded with uncertainty. At this moment my future remains unclear."
The club issued a response assuring fans that the board is working to secure the long-term future of the club.
Their statement said: "The board expects to complete the sale of the club next week and are confident the new owners share the same ambitions as Paolo and his team.
"The decisions made over the last few days have not been made lightly, and in the case of the decision to sell Matt Ritchie, have been done in conjunction with the new owners.
"While the board understands Paolo's desire to gain promotion and is wholly supportive of this, the board's considerations and responsibilities extend beyond the on-field activities.
"We are faced with difficult choices and, while we recognise the disappointment caused by the sale of Matt, the board has not shirked its duty to face up to the harsh realities of its financial situation."
Former West Ham striker Di Canio, 44, joined Swindon in May 2011, following their relegation to League Two, and has brought them great success.
He led them to promotion as champions last season, they reached the Johnstone's Paint Trophy final and now sit third in League One.
But their financial situation has come under scrutiny in recent weeks after it was revealed by BBC Wiltshire that owner Andrew Black had put the club up for sale because he was no longer willing to invest.
At this point, Swindon were considering entering administration in order to wipe out £9m of unsecured debt.
The club brought in advisors to restructure their finances - with total debts thought to be in the region of £13m - and a letter was sent to every club in the Football League stating that all Swindon players were for sale.
It was announced on Wednesday that a local consortium, fronted by Banbury United owner Jed McCrory, had agreed a takeover, subject to approval.
On Wednesday evening, Ritchie signed for Bournemouth for £500,000 - a deal which the club said was essential because of their financial situation.
The decision to sell last season's player of the year was made by the current and incoming owners and Di Canio revealed he knew nothing about Ritchie's departure until he was told by the player himself.
Di Canio said he had been given permission to sign three players on loan before Thursday's transfer deadline - Marlon Pack from Cheltenham, and Charlton duo Bradley Wright-Phillips and Danny Green.
All three agreed contracts at the County Ground and passed medicals, but the Football League would not approve the deals because the sale of the club had not been completed.
Di Canio added: "I have worked so hard for the club and made many sacrifices because I wanted to achieve something special.
"The players and my staff have been fantastic to me and the statistics prove my way of managing, playing football and working is successful.
"I shall remain professional and continue to achieve the best I can, but under these circumstances it is not easy."