Man Utd: Sir Alex Ferguson denies FA misconduct charge
Last updated on .From the section Football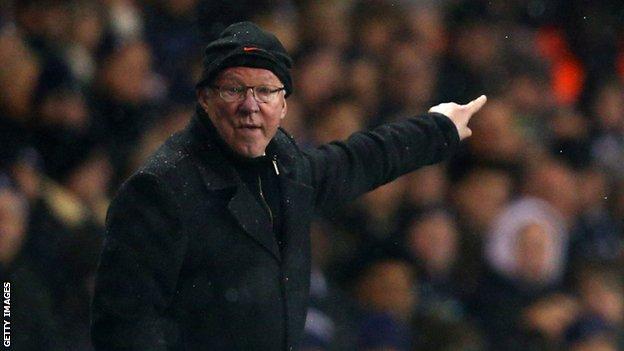 Sir Alex Ferguson has denied a Football Association charge over comments he made about an official after Manchester United's Premier League game at Spurs.
The Manchester United boss, 71, accused assistant referee Simon Beck of failing to give Wayne Rooney a "clear" penalty.
The FA asked Ferguson to explain his comments and charged him on Tuesday.
He has requested a paper hearing, which means he will send a written submission rather than appearing in person. The FA is yet to decide the hearing's date.
When it charged Ferguson with misconduct the FA stated: "It is alleged the Manchester United manager breached FA Rule E3 in that he implied that the match official was motivated by bias."
Ferguson had until Friday afternoon to reply to the charge, which came as a result of comments made during a post-match interview on 20 January at White Hart Lane.
The Scot had appeared incensed after his side had their request for a spot-kick turned down prior to Clint Dempsey striking an injury-time equaliser for Spurs in the 1-1 draw.
"There was no way the linesman was going to give that - he gave them everything," said Ferguson after the game.
"It was a clear decision. And he was 10, maybe 12 yards away from the incident and he doesn't give it. And yet he gave everything else."
The Scot also referred to a previous incident involving Beck in the 2-1 defeat by Chelsea in April 2010.
Despite Chelsea striker Didier Drogba looking offside, Beck allowed the winning goal and it proved a pivotal moment in the Premier League title race, which Chelsea eventually won.
"I am disappointed with him [Beck] - we have not had a good record with him," Ferguson told BBC Sport after the Spurs match.
"With Chelsea a couple of years back, he gave onside to Didier Drogba and he was three yards offside. You remember these things because it is in important games and that was an important game."