Nations Cup 2013: Semi-finals tickets remain unsold
By Giles Goford
BBC Sport, Johannesburg
Last updated on .From the section Football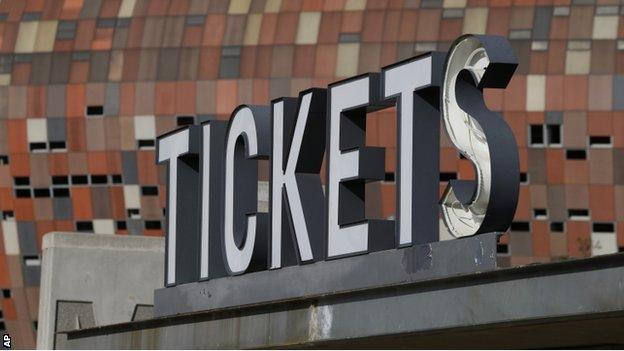 Africa Cup of Nations organisers say 43,000 tickets remain unsold for the semi-finals, in Durban and Nelspruit.
Durban, which could host South Africa if they beat Mali, has 19,000 available seats for next Wednesday's match.
The 43,0000-capacity stadium in Nelspruit still has over half of its tickets unsold: some 24,000 in total.
Prior to the competition, local organisers stated that the priority for the 2013 finals was "full stadiums, full stadiums, full stadiums".
There is better news with regard to the final in Johannesburg on 10 February, with only 6,000 tickets available for a stadium that can hold 94,000.
Hicham El Amrani, Secretary General of the Confederation of African Football (Caf) said: "They [Nelspruit] need to work very, very hard [to fill the stadium] but we understand that some spectators don't want to commit before they know who is going to play in those semi-finals."
Caf confirmed that 433,053 tickets had been bought by the public for the tournament, while 278,596 have been given away as complimentary tickets.
Low attendances in Port Elizabeth has particularly disappointed organisers.
Despite being the venue where most free tickets have been distributed, along with offers of free transportation for supporters, the crowds have been sparse in a city known for its love of sport.
Port Elizabeth hosts the first quarter-final, between Ghana and Cape Verde, on Saturday.
Mvuso Mbebe, the chief executive of the Local Organising Committee, said: "That concern is shared by all of us.
"We appeal to the South African public to support the tournament. It should be immaterial which teams are playing.
"We've got great stars here, the football has been great and we owe it to the continent to make sure the stadiums are full."
"We have increased our advertising [in Port Elizabeth]. We're looking now at a system where the complimentary tickets will only be handed out once people have arrived at the bus or train stations.
"We'll do that for Saturday's match and see if that works. Beyond that really, there is little else we can do."
On the issue of the poor pitch in Nelspruit, El Amrani said: "We were surprised by it, but there's no point whining about it.
"We just need to work on it and improve it as much as possible," he added, before confirming there was no possibility of the semi-final being moved to another city.
Officials said the playing surface, which Caf said had been the best of all the host cities at the start of the year, had been hit by heavy rain, followed by high temperatures, that left it damp.
The sand added to reduce the dampness has now been removed, with additional chemicals trying to help the growth of the grass before the semi-final.
In Sunday's other quarter-finals, tournament favourites Ivory Coast meet Nigeria, while Burkina Faso and Togo clash later in the day.