Egypt's league resumes despite national protests
By Piers Edwards
BBC Sport
Last updated on .From the section Football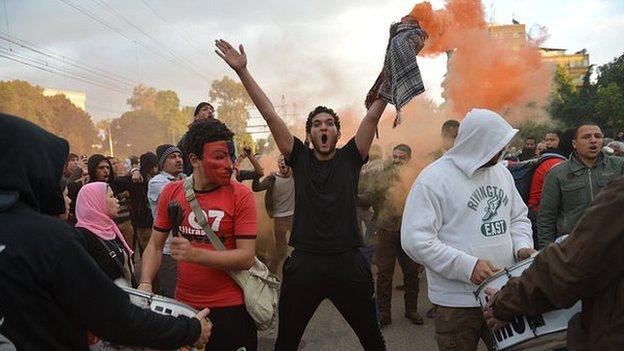 Egypt's football league has resumed after a year's absence, despite ongoing protests in Cairo and Port Said.
Defending champions Al Ahly kicked off the opening game of the league season against Ghazl El Mahallah in Cairo.
No supporters have been allowed to attend Ahly's opener, with city rivals Zamalek also in action against Al Ittihad.
Thousands rallied in Port Said a year to the day after the stadium disaster that killed more than 70 people there.
That tragedy prompted the cancellation of the league.
Al Ahly, who are seven-time African champions, lost dozens of supporters in the Port Said tragedy on 1 February 2012, after many of their fans were attacked by supporters of home side al-Masry.
On 26 January, an Egyptian court sentenced 21 people - all of whom were al-Masry fans - to death for their part in the riots.
The verdict sparked further deadly violence across the country, where over 60 people have died at a time when many protestors have also been reacting to the second anniversary of the uprising that ousted Hosni Mubarak.
On Friday, further protests erupted outside the presidential palace in Cairo, with riot police using tear gas and water cannon to try to drive back the crowds throwing rocks and petrol bombs.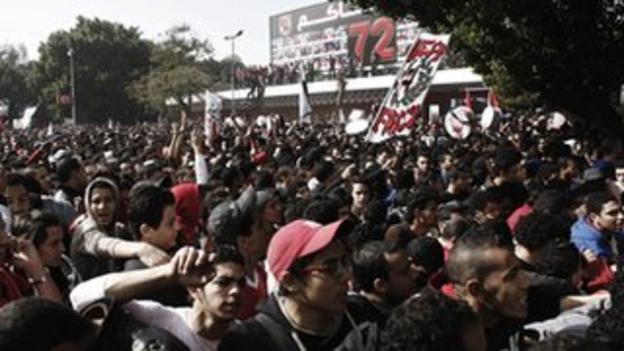 The protesters accuse Islamist President Mohammed Morsi of betraying the 2011 uprising - a claim he denies.
The violence and ongoing uncertainty has prompted many Egyptians to wonder whether it is a wise idea to restart football, says the BBC's Inas Mazhar in Cairo.
"Even though the games are to be played without fans, the matches still need security," she added.
"Many people believe the police are too exhausted after a week of disturbances, with the media wondering whether the Ministry of the Interior will be able to secure matches."
"During the past days, most people on social media have been critical of the idea of resuming the league while Egyptians are being killed in the streets."
Mazhar says that both the country's top clubs and the media had been heavily sceptical of the league's resumption given the incidents of the past seven days.
On Thursday, Ahly released three key personnel to play overseas - with Mohamed 'Gedo' Nagy and Ahmed Fathi joining English side Hull City on loan, while influential midfielder Mohamed Aboutrika has joined a club in the United Arab Emirates on loan.
Previous attempts to re-start the Premier League - in September, October and December of last year - had already been abandoned amid concerns over security.