Africa Cup of Nations: Igesund pride in South Africa display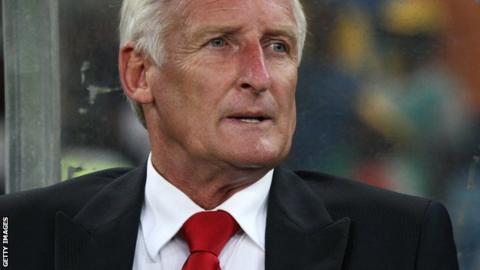 South Africa coach Gordon Igesund said his team has made "huge strides" during the Africa Cup of Nations and bemoaned the lottery of penalties after their quarter-final defeat against Mali.
Three of his players missed from the spot in the Durban shoot-out.
Igesund, who has been in charge for seven months, said: "We lost with pride, dignity and passion.
"We have proven that we can match anybody. It's just a pity with penalties - it's the luck of the draw."
He added: "If I can say that maybe we have made huge strides, we got better and better as the tournament went on."
South Africa now turn their attentions to qualifying for the 2014 World Cup in Brazil. They have drawn their opening two qualifiers and play Central African Republic next month.
Midfielder Dean Furman, who plays for Oldham, impressed with several positive displays but missed one of South Africa's three penalties
He said on Twitter: "Hurting both emotionally and physically. We gave everything out there. We will pick ourselves up and come back stronger. An experience I will never forget."
Igesund had been set a target by the South African Football Association of reaching at least the semi-finals.
But despite falling short of that goal, the coach - who has won four Premier Soccer League titles with four different clubs in South Africa - sees a bright future for his young side.
"They came here and matches one of the best teams on the continent and took them to penalties," Igesund said. "Tonight luck was on Mali's side. They took their penalty kicks well.
"We played well but we didn't score the goals, that is unfortunate. We played a team ranked third in Africa and we matched them and dominated them. This team has come a long way not only the way they play but also off the field."
Bafana Bafana captain Bongani Khumalo said: "We are out of the tournament right now but there are many positives. We have to take what we can and move forward from this experience."
The performances of the national team did not go unrecognised by government ministers.
Dr Zweli Mkhize, the Premier of KwaZulu-Natal, said: "We are proud of you. You displayed great sportsmanship. With your excellent performance you have restored the dignity of Bafana Bafana and of the country.
"You did better than many countries that were in this tournament. Do not let this setback put you down, you went down fighting which is what the people wanted to see."