Steve Clarke 'disgusted' at Goran Popov over spitting incident
Last updated on .From the section Football
West Brom manager Steve Clarke said he was "disgusted" by Goran Popov, who was sent off for spitting in Sunday's 1-0 defeat by Tottenham at The Hawthorns.
The defender was dismissed two minutes into the second half for spitting at Spurs right-back Kyle Walker.
A furious Clarke said: "I am disgusted. Goran knows it is wrong. The club will look at it and deal with it internally, and obviously he will be disciplined.
"He's let everyone down. We paid a big price and as a result lost the game."
Popov tussled with Walker on the left flank and then spat towards the Spurs man. The incident was seen by referee Mark Clattenburg, who dismissed Popov immediately.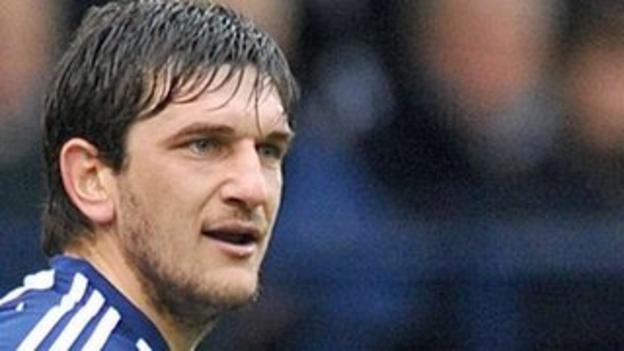 "You can't see from the bench. But I know Mark Clattenburg as a referee and he wouldn't have produced the red card unless he had good reason," Clarke said.
"How you can complain about that? He has let the group down, he has let the supporters down and he has let the club down.
"In the first half we were good. We were in the game, we were aggressive and created some good chances. Shane Long had a one-on-one chance which he would have taken on another day and Romelu Lukaku was a threat.
"That's what it's so frustrating. To go down to 10 men makes it doubly difficult.
"Of course I am angry. We make a big thing about playing for each other and helping each other on the pitch."
Clarke said the red card, coming just three days after the Peter Odemwingie transfer saga, rounded off a bad week for the club.
Odemwingie tried to force a move to QPR on transfer deadline day.
The 31-year-old arrived at Loftus Road but West Brom said no fee had been agreed and he was not free to discuss personal terms.
"It hasn't been a good week," Clarke said. "I felt we could turn it around performance-wise. But it was obviously another bad incident for us."
Tottenham manager Andre Villas-Boas was delighted with his side's performance.
"We had a difficult first half but a better second half and deserved the win. It was important because we managed to get four points from two away fixtures," Villas-Boas said.
"The sending-off made it a little bit easier.
"It was a cracking goal from Gareth Bale. Things are going well for him individually and the team collectively.
"We are under pressure from teams that are chasing us. We had to make the most of a weekend when the results are positive. It's been a good week."