Roberto Mancini: Manchester City in title race with Manchester United

By Phil McNulty
BBC chief football writer at Etihad Stadium
Last updated on .From the section Football507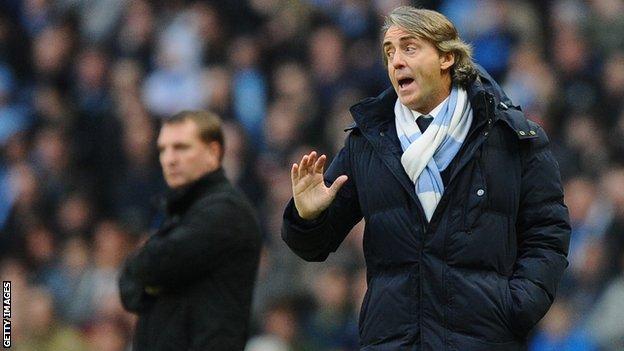 Manchester City manager Roberto Mancini insists the Premier League title race is not over, despite his side trailing Manchester United by nine points.
Mancini said: "This championship is not over, absolutely not. There is still time for a team to make a mistake.
"We probably now need to win all of our 13 games, but if not 11 or 12."
He added: "This is football and it can happen. Last year we recovered eight points in the last six games. It is not finished.
"We have 13 games left and Manchester United have to play in the league, FA Cup and Champions League. The season is long, we have three months to go and we are confident."
And Mancini targeted the Manchester derby at Old Trafford on 6 April as he said: "For us it is important to play the derby game only two or three points behind.
"I am disappointed because we didn't play well. Liverpool played better than us in the first half."
Mancini felt Liverpool could have put the ball out when Edin Dzeko lay injured following a tackle by Daniel Agger before Daniel Sturridge equalised.
"It was probably a yellow card," Mancini said. "The referee was there 15 metres away and the linesman was there. I don't know why they didn't see this foul."
But midfielder James Milner said: "The first goal was frustrating as it should have been a foul, but you have to carry on and we should have closed them down quicker. It is up to the referee to stop it and Liverpool were entitled to carry on.
"It was two points lost, as we have to pretty much win every game now. Liverpool were always going to be difficult and the two goals from Sergio Aguero and Steven Gerrard were outstanding, so maybe a draw was fair.
"When we are on top of games we should be putting teams to bed. Everyone says how difficult it is to defend your title, but as a player you do not think about it.
"We have to keep working hard and see where that takes us. There were times last season where both teams had the title in the bag, and we know what happened - football is a great game."
Liverpool boss Brendan Rodgers felt his side deserved all the points: "It should have been a win for ourselves," he said.
"I thought we played terrific and were the dominant team. We scored two wonderful goals and I am disappointed with the goals we conceded.
"The first was from a throw-in and the second typifies the growth we need to make to be up there challenging. The template of our game is improving. We need to cut out the mistakes and we can challenge at the top of the league.
"Daniel Sturridge has been immense and has given us a tonic, a reference at the front for the team. He is now part of the jigsaw of our growth - we are growing all the time and that is what this season is about.
"We have come to the home of the champions and dominated. We know we can be better."