World Cup 2014: Scolari warming up for Brazil's biggest test
Last updated on .From the section Football51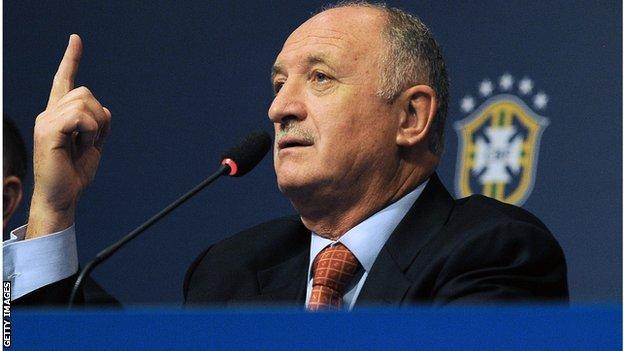 When Brazil came to Wembley to face England in 1978 it was a massive event.
It was their first visit in 15 years, and it was such a rare and glamorous occurrence that it almost made up for England's failure to make it to that year's World Cup.
Three and-a-half decades later, things have changed.
In today's globalised world Brazil playing in London is so common as to be almost banal, and the club game has superseded international football as the supreme test of quality.
But whatever happens, there is one criteria where it is hard to imagine the Champions League competing with the World Cup.
In the major tournaments, international football continues to generate an unrivalled power to make people feel represented.
Celebrated by their millions of supporters and regretted by many of their local rivals, Corinthians winning the World Club Cup is a huge event.
But Brazil holding aloft the World Cup is off the scale. 1970 great Tostao argues that football is a mechanism whereby Brazilians feel avenged.
When they win the World Cup they can bask in this sentiment while a powerful message has been sent about the potential of their society.
But if Brazil winning the World Cup is an earth shaking event, the same can be true when they lose - especially at home.
Zizinho - Pele's idol as a kid - was the star turn in their magnificent 1950 side, whose succession of superb displays helped consolidate Brazil in the global mind as one of the spiritual guardians of the beautiful game.
But on a fateful afternoon in front of their own Rio crowd they let the title slip, losing 2-1 to Uruguay.
They were never allowed to forget it. "I played for 19 years," Zizinho sadly wrote, "I have a few titles to my name and I'm remembered along with the other players of that campaign as a loser."
Since then, of course, Brazil have won the World Cup five times over. But unlike Uruguay, Italy, England, Germany, Argentina and France, they have not done it at home.
Their second chance is 17 months away. Back in 1950 Brazil's population was around 50 million. In June of next year four times that number will be demanding victory.
Throw in the intrusive hysteria of the modern 24/7 media, and it is unlikely that any team has ever gone into a World Cup with so much pressure to win as the Brazil 2014 side.
It is exactly that kind of pressure that makes Luiz Felipe Scolari the popular choice to take charge of Brazil.
His father figure charisma plays exceptionally well in Brazil, and with his steely 'man of destiny' glare he walked into his second spell in charge of the national team with the very message that millions wanted to hear: "We have the obligation to win the title".
The sacking in November of predecessor Mano Menezes seemed extremely harsh - after paying the inevitable price of renewing the squad, his team were moving in an interesting direction.
But there was always a feeling that both he and Dunga, the coach before him, were Scolari stand ins, only given the job because the real thing was not available.
'Big Phil,' meanwhile, is trusting that history will repeat itself. He had never been interested in coaching the national team until he took over in 2001.
Then he guided them through a tricky qualification campaign, came back from Japan and South Korea with the trophy and quit while the going was good.
And when the post became vacant after the last World Cup Scolari put himself out of consideration by taking over at Palmeiras.
He did not want the job then. But it was different story two and-a-half years later, in the build up to 2014, potentially the crowning glory of his career.
The journey begins this Wednesday, when Scolari has a first chance to show how his team will be different from that of his predecessor.
Mano Menezes had ended up playing without a recognised centre forward, with Hulk and Neymar thrown wide and attacking midfielders Oscar and Kaka through the middle.
Scolari, though, has traditionally favoured a target man, and either Luis Fabiano of Sao Paulo or Fred of Fluminense will carry out the role at Wembley.
Oscar, presumably, is the man to make way, with Ronaldinho given another chance to redeem himself at the expense of Kaka.
One option is a 4-2-3-1, with Ronaldinho in between Hulk and Neymar.
Another would have Hulk dropping to the bench in favour of the protection supplied by an extra midfielder in a 4-3-2-1.
The injury to Lazio midfielder Hernanes is unfortunate. He is a player who has never been given the extended run in the side that his technical excellence deserves.
There are intriguing recalls for the Atletico Madrid pair of left-back Filipe Luis and centre-back Miranda, and the surprise inclusion of another centre-back, Dante of Bayern Munich, a virtual unknown at home.
Scolari is clearly looking to broaden his defensive options - and has hinted that in the future David Luiz could be used as a third centre-back, the role filled by Edmilson in the 2002 World Cup.
There is little chance of that happening on Wednesday, however. Scolari does not have enough time on the training ground to experiment.
Wembley will be no more than a preliminary sketch of the team for 2014.
But he needs to make quick progress. Next year there is only one Fifa date before squads assemble for the World Cup. Plenty of the hard choices will have to be taken in 2013.
June is the vital month - after some warm up friendlies, including one against England at the Maracana, Brazil host the Confederations Cup.
Scolari will have more than a month with his players, and will want to emerge from that period with a clear idea of what he wants to do when the pressure is really on.
Comments on the piece in the space provided. Questions on South American football to vickerycolumn@hotmail.com, and I'll pick out a couple for next week.
From last week's postbag;
We often talk about failed footballers from the South American continent playing in Europe, but Luis Muriel appears to be a player who is coming good for Udinese.
He is now being linked with bigger clubs and appears to have a bright future in the European game.
What do you make of him? Ivan Leader
I think he's very impressive, strong and quick and increasingly sure footed.
He's in Colombia's squad to face Guatemala this week, and with the strength in depth that Colombia currently have with strikers, that is an achievement in itself.
Udinese are usually pretty good at talent spotting, and I'm sure they'll be able to make some money selling him on.
After his two goals in the recent "miniclasico" (the B teams of Barcelona and Real Madrid), I was wondering how highly you rate Sergio Araujo and what you think of his prospects of making it at Barca? Gavin Blain
I was interested that Barcelona took him on. He was a big name in Argentina at youth level, looked very good in the World Under-17 Cup, rangy, quick and skilful, and got a huge build up when he made the Boca Juniors senior squad.
But he clearly found the transition difficult to make. It looked to me as if he was not prepared psychologically for the degree of difficulty involved.
Barcelona place so much emphasis on a philosophy where they seek to form stars who don't behave like stars - it could be good for him.