Portsmouth defender Sam Sodje ready to "smash" brother Akpo
Last updated on .From the section Football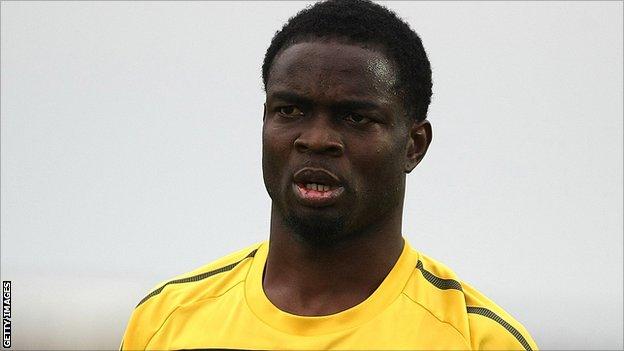 New Portsmouth defender Sam Sodje says he is ready to "smash" his brother Akpo when the pair come face-to-face for the first time on a football pitch.
Sam has never played against Akpo, but is set to do so when Pompey travel to Scunthorpe on Tuesday.
And the 33-year-old has warned there will be no love lost during the game.
"I'm scared because of the way I play. I play with my heart and I hope everything goes well and I just smash him," Sam told BBC Radio Solent.
Sodje played his first game in nine months at the weekend following his release by Notts County and the much-travelled defender his relishing his return to the game.
He has played against elder brother Efe before and is relishing his first battle with Akpo, who he played alongside at Charlton.
"Because of the way I play I will just see him as another striker, which I'm paid to do. I'll probably just go through him and do what I have to do. I just hope he'll be OK," he said.
"I won't look at him as my brother on the pitch and I think he will do similar as well. He is a strong boy but I don't worry about that.
"The brotherly love will still be there, I just hope he knows I will not look at him as a brother in a tackle."
Sam, who began his career at Stevenage and has made over 300 appearances during his career, admitted he was loving being back in football and paid tribute to the Pompey fans,
"I've played for some big clubs, but these fans are the best," said Sodje, who has also had spells with Reading, West Brom, Charlton and Leeds.
"They turn up wherever you go, and they stay until the end. I've never seen anything like it."