Craig Bellamy has no plans to retire from Wales duty
Last updated on .From the section Football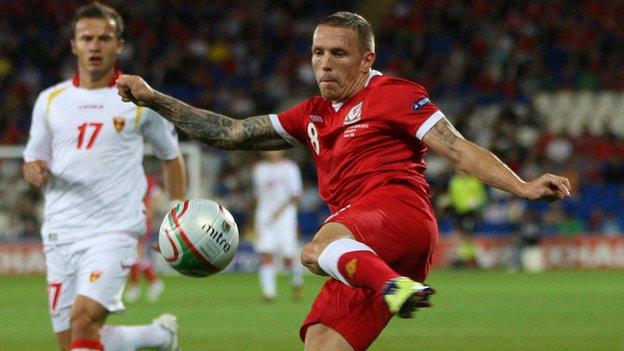 Craig Bellamy says he has no intention of ending international career because representing Wales is "like a drug".
Bellamy's absences had fuelled speculation he was set to retire after 70 caps and 19 goals.
But the player told a media conference in Cardiff: "There is no bigger honour, it's a drug and it's why I am here."
Bellamy, 33, confirmed he would never turn down the chance to represent his country when fit, and had not considered retiring.
"I have always tried to stay as quiet as possible on that issue," he said.
"I am a firm believer you don't retire. If I would have felt like that a few months ago and then done it what would have happened a few months later when I want to come back?
"It is best to keep quiet and see where you are in your mind.
"First and foremost you need to be fit and I am. I'm enjoying my football and it's another game for me and it is an added bonus that it involves playing for my country.
"I am enjoying my football at the moment and how everything is going and it's another chance to represent my country.
"There is no bigger honour, it's a drug and it's why I am here. It's my national team."
Bellamy revealed that the chance to play alongside Gareth Bale, Joe Allen and Aaron Ramsey is also a motivating factor in his desire to continue pulling on the red shirt.
Of Tottenham winger Bale, who is earning plaudits for his wonderful goals against Norwich and West Brom, he said: "For him to be Welsh makes me feel immensely proud.
"He is Welsh, no-one else can have him, he is from our country and he is someone we should be proud of and he makes me feel very proud when I watch him play.
"At this moment he is certainly one of the world's best players, no two ways about it."
He added: "We have Bale, Ramsey and Allen, players who can be the heart and soul of our team for a number of years, so I felt there was a responsibility on myself to show my pride and turn up.
"I had players like Gary Speed who led the way for me.
"I watched him turn up and saw his pride in representing his country. That was an example for me and I want to do the same and I have tried to the same."