Guernsey could install a synthetic pitch at Footes Lane
Last updated on .From the section Football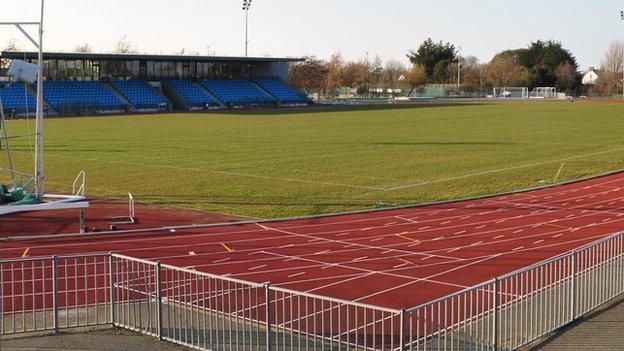 Guernsey's government is investigating whether to replace the grass pitch at Footes Lane with a synthetic surface.
The stadium's pitch has been largely unplayable for the past two months because of heavy rain, meaning Guernsey FC have played just one home league game since the middle of November.
"We're investigating a 4G synthetic surface," said Culture and Leisure Board member Darren Duquemin.
Football, rugby and athletics are all played at the government-owned ground.
"It's a possibility rather than a probability at his stage, but everything's on the table," added Duquemin to BBC Guernsey.
Footes Lane was rebuilt for the 2003 Island Games and has been the island's main stadium since.
The Culture and Leisure Department Board will meet at Footes Lane on Tuesday to see the damage to the pitch for themselves.
Guernsey FC have not played a home game in any competition since beating Erith and Belvedere 4-0 in the FA Vase back on 9 December.
It has caused a major fixture pile-up and led to concerns that the if Guernsey's best players are still in Combined Counties League action.
Guernsey FC face with and the match with Rye United next week, which is off due to the club's FA Vase clash at Spalding United, still to be added to that tally.
"The weather this winter has been exceptional, there have been weekends when Footes Lane has virtually been under water and been a lake really," Duquemin said.
"There's one problem area and that meant the postponement at the weekend and it's that area which needs to be addressed."
But Duquemin, the Guernsey States member for Castel, was quick to praise the ground staff who have been trying to get Footes Lane ready.
"Shane Moon's being doing a brilliant job. Footes Lane for the past 10 years has been a superb surface and a tribute to the efforts of him and the rest of the Culture and Leisure team, but he's been fighting a losing battle this year.
"It has been a freak year and the weather has been exceptional, but there appears to be something working not quite right with the drainage.
"We need to find out exactly what the problem is and fix it in the long term, but in the short term we have to do all we can to ensure we don't have any more postponements as the impact on the football and rugby team is unfortunate."