Match-fixing: Debrecen confirm Liverpool investigation
Last updated on .From the section Football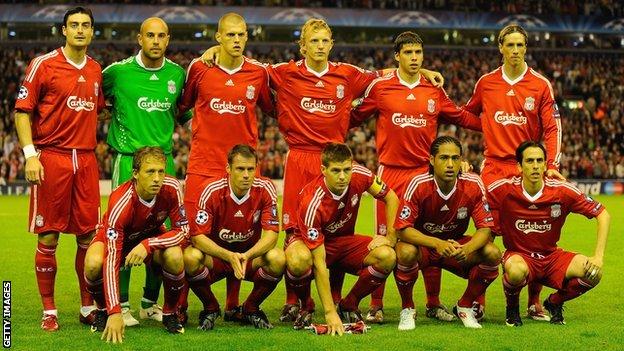 Hungarian club Debrecen have confirmed that their Champions League match against Liverpool in 2009 was part of a match-fixing investigation.
Reports had suggested Liverpool's 1-0 home win in the group stage was one of those under suspicion by the European Union police agency Europol.
There is no suggestion of wrongdoing by the Anfield club.
Debrecen said Uefa had disciplined goalkeeper Vukasin Poleksic in 2010 for not reporting approaches from fixers.
The approaches were before two European matches - against Liverpool and Fiorentina.
Poleksic was banned for two years but the Uefa charge at the time only specified Fiorentina, and Liverpool say they have never been notified by any organisation that the match at Anfield was under investigation.
A statement on Debrecen's website said: "The Uefa disciplinary committee's position was that Vukasin Poleksic neglected his obligations when he didn't report in time that, before two international matches of DVSC, unknown persons attempted to persuade him to influence the outcome of the matches.
"The two matches were the away game against Liverpool and the home encounter with Fiorentina.
"Neither DVSC nor the player wish to react further, all the more so as all the information has been released about this affair during the summer of 2010."
A Reds spokesman said: "We've not had any contact from Europol and no other agency has been in touch with Liverpool."
Former Reds striker Dirk Kuyt scored the winner for the Merseysiders in the narrow victory over the Hungarian side.
Europol, who had looked at 680 matches over 18 months, said on Monday that suspected matches also included World Cup and European Championship qualifiers, two Champions League ties and "several top football matches in European leagues".
Rob Wainwright, director of Europol, said: "This is the work of a suspected organised crime syndicate based in Asia and operated with criminal networks around Europe."
Many of the allegations centre around matches in lower divisions around Europe and there are believed to be in the region of 425 match officials, club officials, players and criminals suspected of being involved.
In matches based in Germany, criminals wagered £13.8m (16m euros) on rigged matches and made £6.9m in profits, with officials fearing this is as the "tip of the iceberg".
The biggest payment to an individual was also revealed to have been in Austria for a total of £121,000.