Nations Cup 2013: Ghana coach Appiah dismisses pitch distraction
Last updated on .From the section Football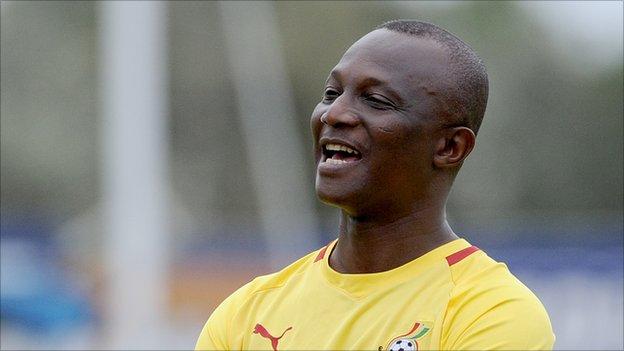 Ghana coach Kwesi Appiah insists the Mbombela Stadium pitch will not be a distraction for his side's Africa Cup of Nations semi-final.
The sand-covered Nelspruit surface has been heavily criticised but Appiah says it will not deflect his team's focus from Wednesday's tie with Burkina Faso.
"We need to compete whether the pitch is good or bad," he said.
"My players are professionals and used to different conditions. In Ghana we play regularly on far worse pitches.
"We need to take our mind off the pitch issue."
Ghana have played all four of their previous matches in Port Elizabeth and have not been given the chance to train on the field ahead of the last-four clash, after the local organising committee stopped all teams from using the field ahead of tournament matches.
Chairman of the Local Organising Committee, Chief Mwelo Nonkonyana, last week said weather conditions were to blame for the state of the pitch, but insisted it was "up to standard" for the semi-finals.
The Stallions, meanwhile, have played all four of their matches on the pitch, prompting their coach Paul Put to label their first semi-final appearance in 15 years a "home" tie.