Match-fixing: Chris Coleman suspicious of European games
Last updated on .From the section Football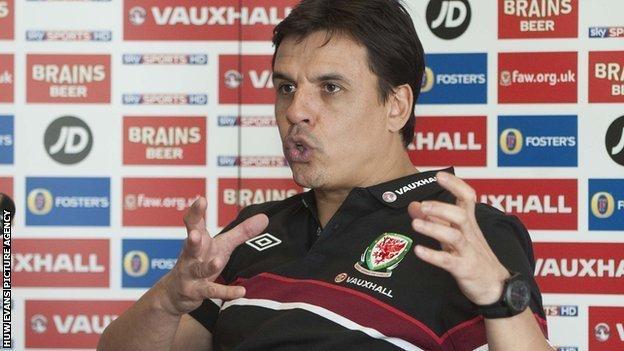 Wales manager Chris Coleman says the actions of some players and referees during his time working abroad made him suspicious about match-fixing.
Coleman, who has managed in Spain and Greece, said he witnessed on-field events that "made me raise an eyebrow".
But he believes the game in Britain is unblemished.
Coleman, who managed Spain's Real Sociedad between 2007 and 2008 and Larissa in Greece between 2010 and 2011, recalled games where he saw players "doing some crazy things" and "referees making crazy decisions".
"You come off, and you are scratching your head and you are thinking: 'Something [is] not quite right'.
"But how do you prove that, especially when you are a manager or a player or a coach?
"I didn't see that too many times but I experienced it. It's unbelievably frustrating but there's not a lot you can do to prove it. Nobody talks about it."
The allegation of widespread corruption in football has come from Europol, which began an inquiry into match-fixing 18 months ago.
Officials have not revealed which Champions League match played in England is under scrutiny.
Coleman, whose next job after Larissa was as Wales manager, said he has no doubts over football at home.
"Since I have been in football in this country I have never ever been suspicious of referees or opposition players, certainly not my own players, being involved in any wrongdoing," he added.
"I'm proud to say that. I think we have always gone about our business in a professional way and an honest way."
As well as 680 fixtures, some 425 match officials, club officials, players and criminals are suspected of being involved.
"It's for the authorities to try to prove that and it looks like with all those allegations they have been doing a lot of work in trying to build that case," he said.
"You do hear of corruption in football but I am surprised at the extent of these allegations. It's sad if it's to that extent and it doesn't look good for football unfortunately."
Simone Farina - a coach who helped stop an attempted match-fixing operation in Italy in 2011 - has called upon those approached to fix matches to co-operate with governing bodies Fifa and Interpol.
Farina gained approval for refusing a 200,000 euro (£165,000) offer to fix an Italian Cup match between Cesena and his club Gubbio last November.
"It is vital that there is complete collaboration with Fifa and Interpol so that the problem can be tackled properly," said Farina, who now works for Aston Villa as a community coach.
"Responsibility lies with the players and officials of football clubs."
"The management of the clubs have to act and support the players and support the authorities in their investigations."
But former head of referees at the South Africa Football Federation (Safa) Steve Goddard says there is an unwillingness to expose match-fixing out of fear of the consequences.
"You've got a need to have everybody determined to root out the corruption," Goddard told the BBC World Service.
"This is where a lot of people who maybe think about taking some action are reluctant to do so because they know what the consequences are going to be."
A Fifa investigation discovered in December 2012 that Safa was infiltrated by convicted Singaporean match-fixer Wilson Perumal and his Football 4U organisation.