Sir Alex Ferguson speaks of hurt over Munich air disaster
Last updated on .From the section Man Utd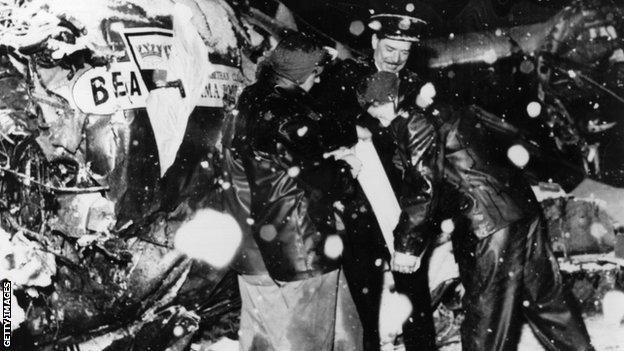 Manchester United manager Sir Alex Ferguson has described how he is still affected by the Munich air crash.
Ferguson was 16 and unconnected to the club when eight United players and 15 others died, 55 years ago on Wednesday, as a result of a failed take-off on a slush-covered runway.
"I've been affected since a young boy. It was a sad time," said Ferguson, 71.
"For many it's probably long forgotten but for someone like me who remembers the day, you won't forget it."
The British European Airways (BEA) plane crashed during take-off as the Manchester United side returned from a European Cup match against Red Star Belgrade.
The team's plane had stopped to refuel in Munich before completing the journey from the former Yugoslavia back to England.
It had been snowing in Munich and when the pilot attempted to take off for a third time the plane over-shot the runway. A wing hit a house and the plane then struck another building, causing it to catch fire.
Twenty-one people died instantly. Co-pilot Captain Kenneth Rayment died later from the injuries he sustained while Duncan Edwards - described by former United assistant manager/temporary manager Jimmy Murphy as the "greatest of them all" - passed away 15 days after the crash.
At the time, the "Busby Babes" were attempting to become only the third club to win three successive English league titles.
Former Aberdeen and St Mirren boss Ferguson paid tribute to those who helped rebuild the club, which went on to win the European Cup 10 years later.
"How we rose to get over that is remarkable in terms of [manager] Sir Matt [Busby] and Jimmy Murphy and all the staff at the time," he told Football Focus.
"It was a fantastic group of young men who were destined to be great and that was the tragedy of it in how it was taken away from them."
Just 13 days after the crash, the rescheduled fifth-round FA Cup tie with Sheffield Wednesday went ahead at Old Trafford.
The team sheet in the game's programme was poignantly blank but crash survivors Harry Gregg and Bill Foulkes both played, alongside new signings and a mix of junior and reserve players.
The club were given special dispensation to play Stan Crowther, a new signing from Aston Villa, despite the fact he had previously played in that season's competition.
United went on to win 3-0 but were eventually beaten in the FA Cup final by Bolton Wanderers.
Despite the tragedy, the club returned to European action and beat AC Milan 2-1 at Old Trafford in the semi-finals, before a 4-0 defeat in the San Siro.
Ferguson believes the event is one that should not be forgotten.
"When you were caught up in the aftermath of it and the publicity, and when the papers detailed what had happened, you couldn't help but feel that enormous loss for anyone football-minded," he added.
"That has carried on for a long, long time and every year you have to remember that."
Watch the full interview on Football Focus on BBC1 on Saturday from 12:15 GMT.