Q&A: SPL chief executive Neil Doncaster on reconstruction
Last updated on .From the section Football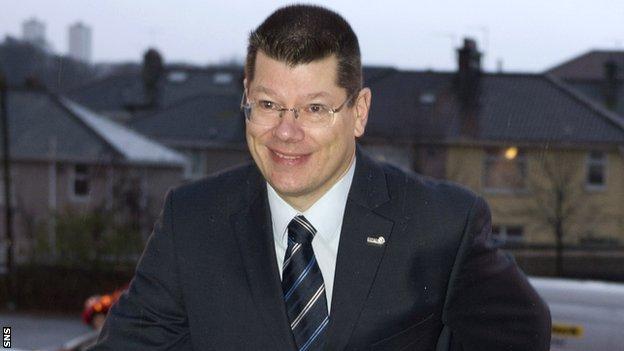 Neil Doncaster, chief executive of the Scottish Premier League, came to the studios of BBC Radio Scotland on Tuesday 5 February to answer questions from listeners on Sportsound.
Host Kenny Macintyre, sports writer Graham Spiers and former SFA chief executive Gordon Smith joined in as Doncaster fielded questions submitted by listeners about proposed changes to Scottish football, including the proposed move to a 12-12-18 league structure.
Why is a 16-team top league not an option?
"We'd all like the idea of a bigger league, but it's just not affordable.
"The reality is, there would be far fewer games - 30 instead of 38 - you're talking about far more meaningless games and you're talking about lower value in terms of TV.
"The fact is, that clubs cannot afford a 16-team league.
Why are you so intent on pushing through proposals that fans are against?
"We do listen to fans and we take their views extremely seriously.
"And what fans tell us, again and again, is that they want a single merged league, a distribution model that brings money down the leagues, they want play-offs, they want a pyramid structure, they want significantly more promotion and relegation and they want more meaningful games.
"The only way we'll be able to deliver these things is through a consensus, and we'll only get consensus, I believe, around this model.
"Last season, Hibernian's biggest home crowd of the season was a Monday night TV game, and the crowds came because it mattered - it was effectively a relegation decider against Dunfermline.
"That's what we've got to do, and that's what the new structure will do. It will create far more meaningful games that fans will want to go to."
Why do you propose adopting a 12-12-18 structure when it failed in Austria and Switzerland?
"We've spoken to the guys in Switzerland that ran the model, and there were issues in Switzerland - but that was partly to do with the model of distributions where money was still concentrated in the top 12.
"And partly also to do with the lack of really good stadia below the top 12 clubs.
"But the guys did confirm it was hugely exciting."
Doesn't the 12-12-18 system create meaningless games in the middle of the season before teams go into the 'middle eight' games?
"You certainly get different points of tension at different points in the season.
"You could get teams taking that view, but then you could get young players being blooded through the system.
"What it will give you is real tension in the second half of the season.
"Every team involved in that middle eight will have 14 games to determine their future.
"It's a scramble to the end and it's all about play-offs and exciting games all the way to the end."
Will there be opportunity for clubs outside the SPL and SFL to progress in the proposed system?
"We've been saying for years that we need a pyramid in Scottish football. We've got, effectively, a closed 42-club system.
"I think having an aspirational system that allows the best clubs to come through is absolutely what we need, and the pyramid will deliver that."
How will wealth distribution in Scottish football change?
"The top eight clubs will all be giving up money to fund huge redistribution through the leagues.
"Whatever monies are there to distribute, the top eight clubs will be giving money, which will go down the leagues and that will benefit all the remaining clubs."
How secure are the SPL's current TV contracts?
"I think that's a slightly difficult position, because of ESPN's own position. There's been a huge amount of speculation about their own future in the UK, going forward, we don't know where BT are, we've signed contracts with Sky for five years.
"So all these things are slightly in the melting pot, but TV remains an important part of the revenues of Scottish football."
Why have you not changed the 11-1 voting system?
"There are certain fundamental aspects of a league that require higher voting thresholds and league structure and distributions require a higher hurdle to get over.
"But, to be clear, the vast majority of votes within the SPL are not 11-1"
Are all 12 SPL clubs agreed that 12-12-18 is the way forward?
"They're certainly in favour of taking it forward and trying to make it happen.
"This plan requires all 12 SPL clubs to embrace it, approve it and adopt it.
"There are some clubs that would, perhaps, prefer a bigger league, but they know that any change can only happen through consensus.
"If you put a 10-team model, you're not going to get consensus. If you put a 14 or 16-team model on the table, you're not going to get consensus."
What is the timescale for a vote on adopting the proposed model?
"We'll agree a rulebook with the SFL board. That rulebook will be put in front of all clubs, I hope, sometime around March, and they'll then vote."
Why is the language you use around this so vague?
"When [the clubs] vote, they will want a rulebook in front of them, they'll want to see it in black and white - exactly what it means for them, financially.
"In every sense they need to understand exactly what they're putting their hand up for.
"You can't vote on a concept. You can vote on a rulebook and that's what clubs will vote on."
Are you confident the clubs will vote this through?
"I hope so. I believe this is the right way forward. I believe it will give new excitement, new invigoration.
"I believe there will be huge benefits to Scottish football at all levels is this model is approved."
Could it be in place for next season?
"I certainly hope so."
You can listen to the podcast of Tuesday's Sportsound programme until 12 February.