Nations Cup 2013: Keshi criticises 'mediocre' European coaches
Last updated on .From the section Football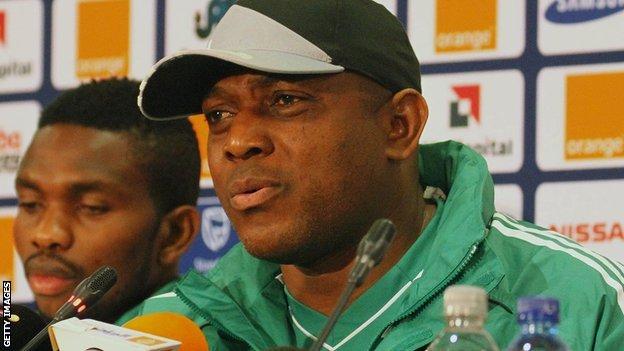 Nigeria coach Stephen Keshi has revived the debate over African teams choosing Europeans over local coaches, ahead of the Africa Cup of Nations semi-finals.
"Do not bring a mediocre coach from Europe and tell me he's better than me - I will not accept that," Keshi said.
The Super Eagles boss has overseen Nigeria's progress to the last four, where they face Mali in Durban.
Keshi had strongly criticised the role of some white coaches in Africa just weeks before the finals.
"The white guys are coming to Africa just for the money," he said in early January. "They are not doing anything that we cannot do. I am not racist but that's just the way it is."
The former Mali and Togo coach rekindled the debate at a news conference ahead of Wednesday's meeting with the Eagles.
"I am never against a white coach in Africa, because I've always worked with white coaches," he said on Tuesday.
"If you want to bring in a classic, an experienced coach from Europe, I am ready to learn from that coach, because he's better than me, he has more knowledge than me.
"Meanwhile, we have quality African players, or ex-African players, [who are] coaches now that can do the same thing, but they're not given the opportunity because they're just black dudes. I don't like it."
Of the 16 coaches who led out sides at the 2013 Nations Cup, nine hail from either Europe or South America, while seven are from Africa.
The semi-finals sees Keshi's native Nigeria take on a Malian side coached by Frenchman Patrice Carteron, while Belgian Paul Put leads out Burkina Faso against former Ghana captain Kwesi Appiah's Black Stars.
Appiah also commented on the issue ahead of his side's last-four clash with the Stallions in Nelspruit, saying he had "total respect" for foreign white coaches in Africa but that black managers "can do the same as anybody".
"The most important thing is the black coach being strong and not allowing people to tell you what to do," he said.
Foreign, mainly European, coaches have long had an influence on African football.
A Hungarian coach - Pal Titkos - led Egypt to Nations Cup glory in only the second edition of the tournament in 1959.
In all, Africa's premier football event has been won by a local coach on 13 occasions, with foreign coaches triumphing 15 times.