Sir Alex Ferguson on the title race, Andy Murray and Mourinho

By Dan Walker
BBC Sport Presenter
Last updated on .From the section Football338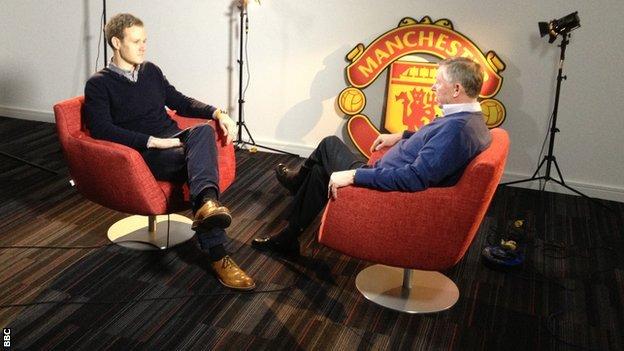 There's nothing quite like a Monday morning in Carrington.
Within a mile's radius the Sharks of Sale are going through their paces, the Sky Blues of City attempt to avoid the prying lenses (it's a bit quieter now for some reason) and just down the road, among the ponies and power cables, you'll find the training home of Manchester United Football Club.
It was this part of Carrington that got me out of bed at 05:45 on Monday morning for an appointment with Sir Alex Ferguson. The United boss doesn't do many "one-on-one" interviews - the only two the BBC have had in recent years were with Krypton Factor legend Gordon Burns and the man who likes to wreck the decks, DJ Spoony.
Normally, the Friday news conference is the only chance to throw a question at Sir Alex - and then only if you're feeling brave. I first interviewed Fergie back in 1999 and it was good to go toe-to-toe with the most decorated man in British football once again.
When I arrived at 08.15 the crew were setting up. In these times of austerity at the BBC, Football Focus often uses smaller cameras operated by a producer to save a few pennies but for this shoot we dragged out the big boys - and some fancy chairs - to try to make the final piece look as impressive as possible.
Sir Alex beat us all to the training ground. He arrives in darkness most mornings, planning meticulously for the day ahead and the next game.
During the interview he confirmed that - even at the age of 71 - he's on the training ground everyday "observing" his superstars and never missing a session.
He turned up bang on 09:00 and after a power handshake - and a few enquires about the line of questioning - we had a chat about the previous evening's Super Bowl and the form of Andy Murray.
He told me about a couple of tips he had been given about the number of points that would be scored and I followed up with an anecdote about the power-cut in New Orleans being caused by Beyonce and her dancers' hairdryers - how's that for the hairdryer treatment?
Our producer then had to give us a gentle cough and confirm "we're rolling" to make sure our 15-minute slot wasn't all taken up by tales of the Baltimore Ravens and just how good Novak Djokovic was in Melbourne.
When the football chat began, Sir Alex was warm and engaging and - for the most part - I avoided any steely stares. It was a genuinely insightful interview, both in terms of reflections on what had gone by in the past 26 years and his vision for the future.
His attention to detail shone through and you could see the glint in his eye when he spoke about building another squad to take into the next few years.
There's some great stuff about Robin van Persie, taking on Real Madrid coach Jose Mourinho, his own future and the title race this season. The overriding impression that came out of our 20 minutes together was that last year's title surrender to Manchester City really hurt. The defeat at Wigan and the draw at home to Everton were just "not good enough" and he is determined that will not happen this time around.
Those of you who saw our Football Focus interview with Mario Balotelli - probably the last time we dusted off the multi-cameras - will remember the section where Noel Gallagher quizzed him on the various "myths" surrounding his life.
When I asked Sir Alex about the so-called "mind games" of management, he reeled off his own list of myths that surround his life. It makes for some very interesting viewing!
That's not the only reason to tune into BBC 1 at 12:15 on Saturday - you'll love it if you're a fan of the Super Swans. We're live at the Liberty Stadium as Swansea prepare to take on QPR and we'll hear from Michu, top scorer at the club getting ready for a first major cup final in their 100-year history.
Robbie Savage and Wales manager Chris Coleman will be with us to reflect on this week's game against Austria and we'll also be joined live by Michael Laudrup - so if you have any questions for the great Dane, or any comments about the Fergie interview or general Focus stuff, then whack them down below.
See you all on Saturday.