Football financer Keith Harris launches Portsmouth takeover bid
By Nabil Hassan
BBC South Sport
Last updated on .From the section Football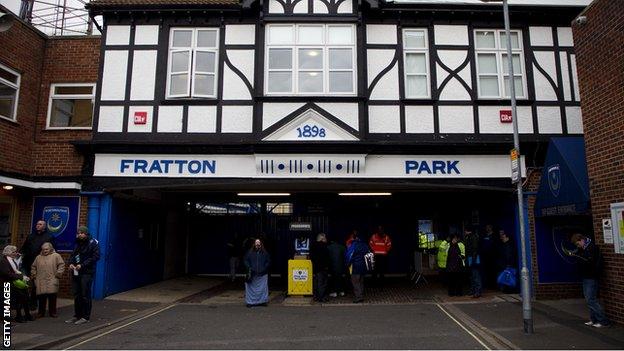 Leading football financier Keith Harris has launched a rival bid to buy stricken Portsmouth Football Club.
Pompey have been in administration since February 2012 and are said to be around £60m in debt.
The Pompey Supporters' Trust have also made an offer for the club.
The PST are administrators PKF's preferred bidder and have been approved by the Football League as well as the club's creditors.
But their takeover is conditional on them taking control of the club's Fratton Park stadium.
It is controlled by the club's former owner Balram Chainrai, who is owed £12m by Pompey and holds the stadium as security via a fixed charge.
The PST have offered Chainrai £2.75m for the ground but the Hong Kong businessman has so far refused to sell.
PKF are attempting to force the sale of Fratton Park through the High Court, as well as seek an independent valuation, although the hearing has been adjourned several times.
The latest hearing is set for 14 February.
A source close to Chainrai's Portpin said they "noted the recent approach from Keith Harris".
"As a creditor we remain agnostic about the source of the solution and welcome an approach from any credible group that might finally lead to the club coming out of administration," added the Portpin source.
The PST remain bullish that their takeover will go ahead and added: "Our bid is complete and ready to go. What we need is a complete break from the past."
Trust spokesman Colin Farmery added on BBC Radio Solent on Thursday: "We just want to get on and do the deal now.
"Our bid is fully funded and we are the preferred bidder. The Supporters' Trust want to put money into the club, we intend to buy Fratton Park and ensure the club owns its own stadium.
"It has got to be sorted and the thing is there is a solution. The solution is our bid, it's ready to go."
Farmery added that the PST had not ruled out the possibility of seeking extra investment in the future, but said it was not an issue at present.
"We've always said that down the line if someone is interested in investing in the club then they should come and talk to us," he added.
Harris has been involved with Pompey before and was brought in by the previous administrator of the club - Andrew Andronikou - to help find a buyer when former owners Convers Sports Initiatives (CSI) went out of business.
PKF were unavailable for comment.